Recently, I began to get acquainted with the cosmetics company Mirra. One of my friends, about whom I have already written once, is interested in everything natural and she highly recommended this brand, since Mirra products do not contain harmful substances. I decided to start with the purchase of a nourishing face cream with melissa and raspberries.
Why the choice fell on him
The reason is rather trivial – my nutritious cream has ended and I had to get a new one. I was also attracted by the price of the product. My friend buys Mirra cosmetics at a discount and this cream cost me only 150 rub. per 50 ml tube. Well, the third reason – the appointment of the cream. The annotation says that all family members can use the product, incl. and children.
According to reviews, I heard that this nourishing cream will be indispensable in the winter, because It well protects the skin from the influence of low temperatures and weathering. So far we have not had severe frosts, but the minus has already been established on the thermometer, so yesterday I tested the tool for protection.
Action liked. There were no discomfort because of the exit from the warm room to the street, although usually my face is very sensitive to temperature changes.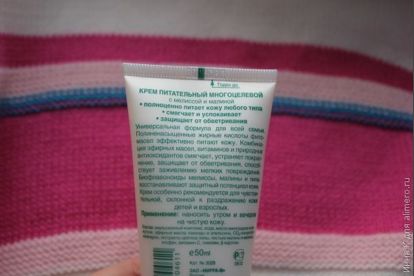 I do not really believe in the naturalness of cosmetics manufactured in an industrial way. But the composition, which does not indicate the notorious harmful SLS, still pleases.
We read the label: emulsion complex, water, grape and sesame oils, lavender and orange essential oils, Calendula CO2-concentrate, linden flowers, raspberry and lemon balm extracts, epofen, vitamin C, lycopene, ß-carotene.
As I have already learned, epofen and lycopene should not be frightened, they are antioxidants of a new generation. CO2 concentrates do not carry anything harmful either. This inscription means that the purest concentrate is used without impurities and water. The rest of the cream entirely oils and flower extracts.
Impressions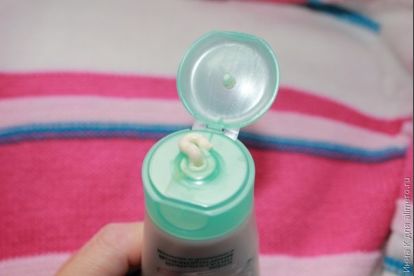 A friend told me that the cream is very greasy, but I would not say that. Yes, it is not attributed to the lungs, but it is absorbed without a trace. There is no feeling of heaviness on the skin, and it is not covered with a film.
The smell of the product is pleasant; for some reason, it reminded me of children's cosmetics, apparently somewhere there was the same perfume. I did not feel the aroma of raspberry, it probably smells of some kind of grass, but without sharpness.
I also ended up with hand cream, so now I lubricate my hands with this nourishing cream. I like the effect. The hands usually dry more than the face, and after applying the products become tender and velvety.
In general, I estimate my first experience of using Mirra cosmetics as positive. I think I will continue to purchase products of this brand.
Have you ever used Mirra creams?