Face masks are permanent residents of my bathroom, I have a lot of them, because I do them regularly (2-3 times a week), and I like to try new products. In recent years, I prefer the masks of domestic manufacturers, especially since the cost is low and the quality is not inferior to foreign competitors.
Ekolla is a Ukrainian cosmetic company (Donetsk), which was founded more than ten years ago, and was the first Ukrainian company to start producing wet wipes. Later they were joined by cosmetic products.
The range of face and body skin care products is rather big:
– scrubs
– gels for washing
– various creams for all skin types
– leg venotonic gels,
– sun protection series
Each product has in its composition unique natural ingredients – juniper, fig, dogwood, rosehip and others. Ecolla cosmetics created by fitorecept from environmentally friendly plants of the Crimea.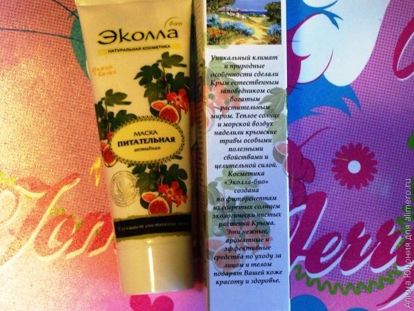 The price range can not but rejoice, the average cost of funds – about 60r. (15 UAH), which does not affect their quality and effectiveness.
Ecolla products are exported to nearby countries – Russia (Ecolla-Bio), Belarus (Life Group). In Kiev, cosmetics of this company are sold in pharmacies and cosmetic stores.
Description and composition
The mask with dogwood and fig is designed to quickly improve the appearance of tired skin, nourishes and tightens it, gives brightness and radiance. And natural extracts of the Crimean plants (fruits of shameless and wild rose, chamomile and primrose flowers) provide the skin with substances that are necessary for quick recovery with signs of aging.
The list of natural ingredients does not end there, because the main active ingredients of the mask are dogwood extracts (rich in vitamin C, carotenoids and organic acids) and fig fruits (contains a whole complex of valuable vitamins and minerals).
This tool is intended to:
– nourish tired and dry skin
– eliminate its peeling
And, despite the fact that my skin is prone to fat, I still got this mask, because in the winter on the face appeared dry areas.
The composition lists all the extracts of fruits and plants that are declared by the manufacturer. True, they are in the last positions (which means their minimum content in the tool), but still they are.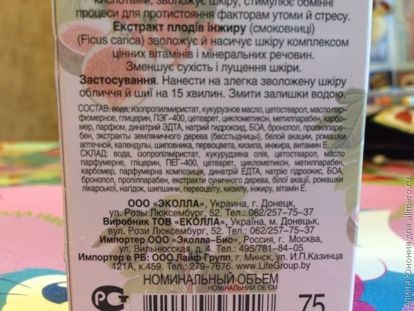 Like all Ecolla products, the mask with figs and dogwood has a delicate and pleasant smell, the texture is watery, but not so much as to make it difficult to apply the product to the face. Honestly, I do not remember how dogwood smells with figs, but I really liked the flavor.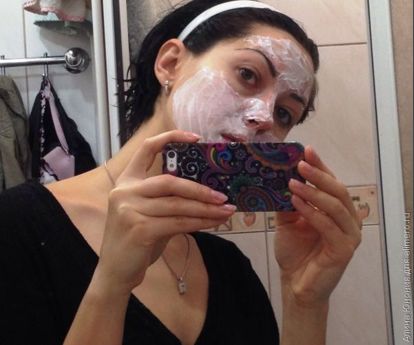 Recommendations for use states that the mask should be applied to the moist skin of the face and wash off after 15 minutes. Wash off the product very easily.
After applying the skin of the face looks noticeably fresh, there is absolutely no feeling of tightness, as is often the case with me, especially with clay masks. The nutritional effect is so significant that you can do without the use of moisturizer, I just have to refresh my face with thermal water and that's it.
I can't say anything about shining, but the fact that the mask perfectly removes the signs of fatigue and gives the face a healthy look is true, and not attractive words on the packaging.
The cost of a mask with dogwood and figs in Kiev pharmacies is ridiculous – about 50p. (13 UAH) for a tube with a capacity of 75ml. Honestly, even if the cost were 2-3 times higher, I would still have acquired this tool, because it is not often possible to find a mask with a similar rapid effect.
I am pleased to recommend this tool to you, and I myself am going to try other Ecolla masks. I hope that they will also make me happy!