After my move to another city and in connection with the change of water, my hands began to dry terribly. Regular hand creams did not help. In pursuit of the removal of discomfort, I purchased a dry skin cream from Nivea, which I will tell you about today.
The manufacturer (France) promises to take care of the hands with the help of nature itself. The cream contains argan oil, which intensively protects and nourishes dry skin of the hands, giving it softness and tenderness for the whole day. Without silicones, dyes, parabens and mineral oils.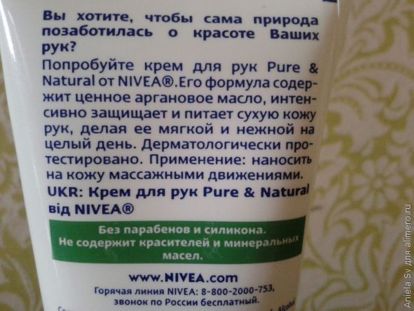 Packaging and appearance
Like all standard hand creams, this comes in a comfortable plastic tub with a hinged lid. The tuba is opaque, white, the cap is blue. I really liked the material of plastic tuba to the touch – never paid attention to it, but here I did. And the design of the Nivei is pleasing to the eye – the style has become much better than before.


Cream thick milky white with unexpressed, but pleasant aroma that is not stored on the hands. Despite the high density of the cream, I easily squeeze it, because the tube is soft – you can squeeze the cream to the last drop. It is applied and distributed easily, absorbs quickly, leaving no sticky slippery film and white streaks. Volume – 100 ml.
I put the cream on the night before bed, not being afraid to stain everything in it. I apply, in passing doing massage of hands and rubbing in a cuticle. During the night, my hands are transformed. In one application, dry hands were gone, which previously could not be eliminated. The handles are soft, nourished, smooth. In this case, the effect of this persists all day, despite the constant washing of hands. My pens are very satisfied. I didn't notice any supernatural influence on the nails and cuticle.
Ingredients: water, glycerin, various types of fatty acids, argan oil. Paraben and silicones really do not. The composition seems to be unremarkable, but it worked flawlessly on my hands. Full composition on the photo.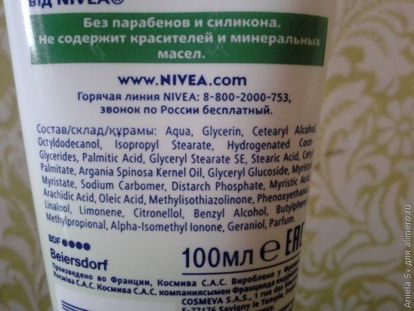 Buy it!
All girls with dry skin of the hands, who no longer know what to smear on themselves, I recommend! I am sure you will enjoy the cream and eliminate the annoying dryness. I bought the cream for 120 rubles without discounts.