In spite of constant employment, I always try to devote a certain part of my time to skin care, therefore, in my arsenal a lot of different cosmetic products. The only remedy that I have not bought for a long time is a facial scrub.
It has long been convinced that natural scrubs prepared from homemade products (like masks) are much more useful and effective for delicate sensitive female skin.
Their main advantage is:
– do not contain harmful dyes, fragrances, synthetic elements;
– completely eco-friendly and safe;
– easy to prepare;
– as effectively and gently cleanses the skin, as well as branded products, exfoliating dead cells and particles.
– they are much cheaper than any purchased means (in fact, it can be made from what is on hand in the house).
But this procedure should not be carried away, peeling should be carried out after careful cleansing of the face. For normal, oily and combination skin, this procedure is recommended 1–2 times a week, and for dry and sensitive skin, no more than 2–3 times a month for the night, especially during the sunny season. After using the scrub, the skin becomes more susceptible to sunlight and pigment spots may appear.
Personally proven over the years recipes
1. Scrub on the basis of coffee grounds


We will need: 1 tablespoon of coffee grounds, 1 teaspoon of honey, half a teaspoon of lemon juice. We mix everything and rub in circular movements into the skin of the face for 1-2 minutes, without touching the eyes and lips. Wash off with warm water.
The result always impresses me – the skin is soft, smooth and soft. Coffee perfectly cleans, honey smoothes all fine wrinkles, moisturizes, and lemon juice brightens the skin. For some, this recipe (based on coffee) is not suitable, as they say it is a bit harsh, but for me personally it is the most relevant. Here the main thing is to choose finely ground coffee and not to apply efforts when rubbing into the skin.
2. Oatmeal Scrub


This recipe is suitable for all skin types, if you choose the right supplements. For dry skin, we need: 2 tablespoons of oatmeal (regular oatmeal milled in a coffee grinder) mixed with warm milk apply on skin in a circular motion for 2-3 minutes and leave to hold for 3 minutes. Wash off with warm water.
For oily skin, instead of milk, add a little kefir (or egg white), and for combination skin, add a little olive oil and a drop of lemon juice.
Masks on the basis of oats are valuable because they are suitable for allergy sufferers, their effect is soft and calm on the skin. They have a rejuvenating effect, nourish the skin with beneficial vitamins, give it elasticity and silkiness, help get rid of pimples.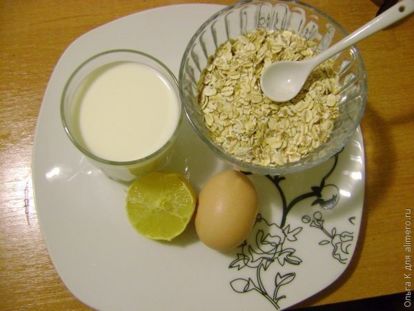 3. Salt-based scrub


Effective in the fight against acne and oily skin. Mix 1 tablespoon finely ground salt with sour cream and rub gently on the skin for 1-2 minutes. – rinse with warm water.
After this method of cleansing, my face immediately gets a healthy and fresh look, the skin melts elastic. I use this scrub when the troubled T-zone starts.
And what scrubs at home do you use?