For fans of natural cosmetics, I began to identify myself recently. As a rule, this kind of cosmetics does not differ cheap prices, although there are very affordable brands. These, of course, include the Russian brand Natura Siberika, which recently filled the shelves of our stores. In today's topic, I want to talk about the means to care for the skin of hands and feet from Natura Siberika.
Lightweight hand cream for daily care
The cream is really very light. I would classify him as useless, but for the summer period it is quite suitable.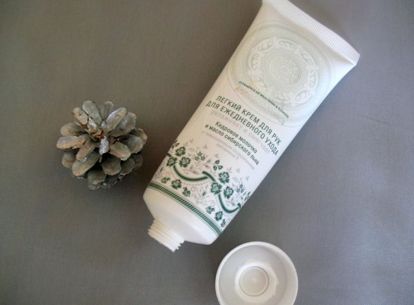 What you liked:
– slight smell and texture
– absorbs quickly, softens skin of hands for a while
– as part of no parabens and synthetic dyes
What did not like:
– not enough moisture for me. I have dry skin of my hands, and now, because of a small child, a lot of housework and hands are constantly in the water. Therefore, the cream for me is too weak.
Anti-Aging Hand Care Cream (Under 40)
I liked this cream more. It is more dense and moisturizes and nourishes the skin of the hands. The packaging says that the cream effectively prevents aging and keeps the skin young. I don't know if this is so difficult to verify … Maybe so, and perhaps just a marketing ploy.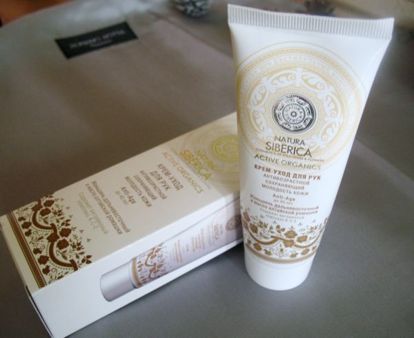 What you liked:
– lack of parabens and dyes
– well moisturizes and nourishes the skin

What did not like:
– not very pleasant and very persistent smell. But for me it is not so important.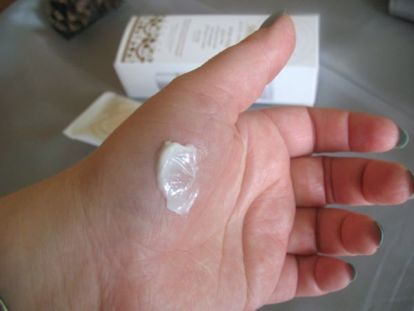 Conclusion
The cream costs around 100-130 rubles (depending on the place of sale). In this price category there are more successful options. For example, Cliven nourishing cream (by the way, the only one that helped me cope with peeling and dry skin in winter).
I have kept the anti-aging cream from Natura Siberika as an alternative.
Active foot care cream (for calluses)
I didn't understand this cream at all and didn't understand what the blisters were about.
I took it for the summer trip, as long walks were supposed.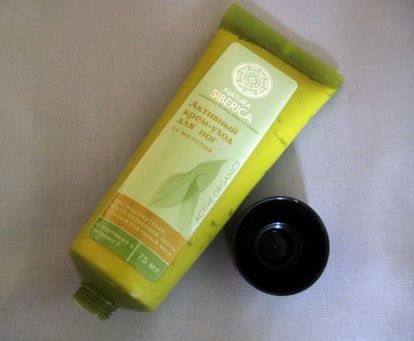 The cream contains in its composition D-panthenol and vitamin F. The packaging says that the cream softens the rough skin of the feet, heals small cracks, heals calluses, relieves skin inflammation, and also has an active softening and deep moisturizing effect.
What did not like:
– the cream did not cope with any of the tasks. Did not help solve problems with calluses.
– did not soften and moisturize the skin on the feet. At the same time, she used the cream from Christina (Forever Young), from which there were very good impressions, so there was something to compare with.
As a result, I stopped using it and do not know what to do with it further. Probably have to throw away, as the sense of it is zero. If it were possible to give marks, I would give him a solid deuce.
Foot Cream for daily care
Simple unassuming cream. I liked it more, probably because I did not expect any special miracles from him. Suitable for those who do not have problems with dry skin and cracks in the legs.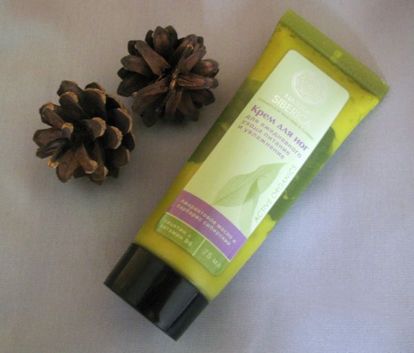 I use it sometimes after visiting the pool.
What you liked:
– fresh and pleasant smell
– light texture, absorbs quickly
– unlike the first cream, it still, slightly moisturizes and softens the skin
What did not like:
– weak, not very effective cream. With serious tasks can not cope.
Conclusion
General impressions of the Natura Siberika brand are complex. I also used their shampoos, they did not suit me. And most likely, I will not dare to try on myself means for the face. In general, I did not find anything for myself in this brand that I would have liked unconditionally.
Her only horse is a bet on naturalness. But, as far as I understood, Natura Sibirika is still not organic cosmetics, but natural, therefore it cannot be considered 100% harmless and safe.