Acquainted with the products Natura Siberika I dreamed of for a long time. The price in small shops bit a bit, and it is not at all possible to buy products of this brand in our town. But now, the desired brand has appeared in a large network of cosmetic stores. Just my facial scrub ended, which prompted me to buy an exfoliating scrub from the coveted brand.
The promises of the manufacturer, as always, are impressive. The scrub on the basis of Sophora Japanese, Arctic raspberries and bisabolol gently exfoliates, renews the skin and restores it. Nourishes with nutrients, gives softness and elasticity. Prepares the skin for further care, ensures maximum effectiveness of face masks.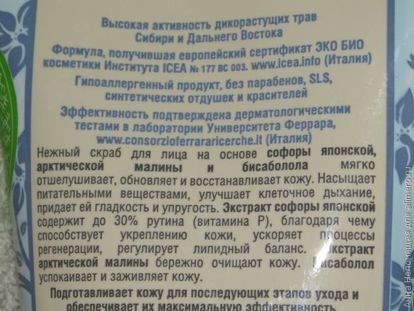 Since the company is positioning itself as supernatural, I read the composition very carefully. And what is there? And in the first lines are really very useful extracts of plants, fruit water, plant extracts. The lines are simply full of botanical names of plants and only at the last positions are chemical compounds, without which it would be very difficult to store the product.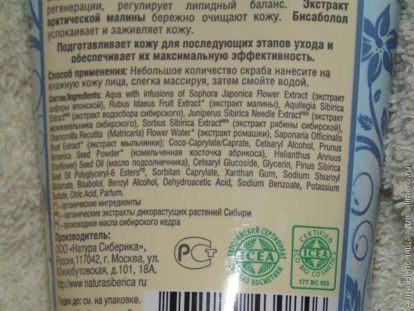 I have to say right away that the scrub did not disappoint for a second, but only pleases with its properties, an unusually gentle and pleasant smell. The product cleanses the skin very gently, does not scratch it, but at the same time it helps to get rid of flaky skin, cleans clogged pores, leaves behind a feeling of freshness and cleanliness.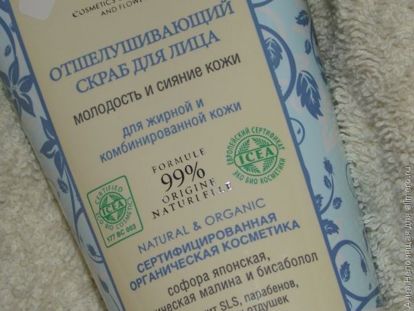 I really liked the product, it is ideal for my oily skin. Well peels, copes with all the impurities of the skin. 150 ml of the product costs about 55 UAH. (220 rubles.) But, there are promotions and discounts, and I was lucky. I bought a tube for 43 UAH. or 170 rubles. I can recommend to all girls with oily or combination skin.