Spring is already on the calendar; on the street, too, the sun spoils us with rare visits. Someone meets her updated wardrobe, someone changes her hair. Spring is a time of change and arousal from sleep. At all, perhaps, except for me …
I love this time of year, but in the last few years my spring begins with age spots. There used to be only freckles and this is not so scary, but even cute, but now …

How it all began
For the first time, I developed pigment spots during my second pregnancy. This, of course, is not the worst thing that can happen in life, but a rather unpleasant phenomenon. And they appear on my face, above my upper lip and it seems that there are nasty antennae. Agree, pleasant enough?
So I immediately began to fight with them. At the beginning, I thought that it was just the body that responded to pregnancy like that. Moreover, at the end of the summer the spots became almost invisible. But no, after childbirth, a darkening reappeared on the face next spring.
I went to an endocrinologist, and it turned out that my hormones were not quite properly produced. The treatment was prescribed, but it did not save from pigmentation.

Folk remedies
At first, I remembered how my sister used to get rid of freckles with cucumber lotion for a long time. And won them, by the way. I bought a couple of bottles and rubbed my face 2-3 times a day.
Also in summer fresh cucumbers come to the rescue. I made cucumber masks. Now there are few of them and they are expensive, but I still try to wipe the skin over the upper lip with them.
Then I found out that the lemon whitens the skin very well. I often squeeze the juice out of it and wipe my face with a cotton pad.
By the way, still well whiten kefir. But for me personally, it's easier to use lemons and cucumbers.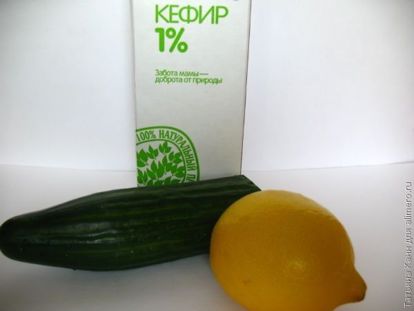 Face masks
To get the greatest effect, I once or twice a week make whitening masks. There are a lot of recipes. I try to make the most simple and affordable. Of course, cucumber masks are quite effective, but I do them mostly in the summer. Now I often use masks based on lemon or cottage cheese.
I want to share a few recipes that I like.

Lemon mask
I mix lemon juice and honey in equal proportions, add a tablespoon of cream, flour and mix thoroughly to make gruel. I put the mixture on my face for 25-30 minutes, then wash it off.

Curd mask
Cottage cheese mix with cream or egg yolk, depending on what is in the refrigerator. I add a few drops of hydrogen peroxide to the mixture and put it on my face for 30 minutes.

Sour Milk Mask
If sour milk appears, then not only dough can be made from it, but also a mask. I add there oatmeal, and then put a lot on the gauze. First wipe the face with lemon juice and then put gauze with mask on it.
By the way, ready-made masks for skin whitening are sold in stores. But I never bought them …

Cosmetics
But here I have tried various whitening creams and peels. I bought both expensive and cheap. For myself, I chose the most suitable option of Belarusian cosmetics.
But the effect immediately from the use of funds should not wait. The main thing is to be patient, then the result will be.
I start using the cream and peeling from mid-February so that by the spring there are no bright pigment spots. I apply cream every day, but I do peeling once a week, sometimes less often.



Cosmetic procedures
I haven't applied to cosmetologists yet. But somehow I collected information about them. Just so far, apparently, not ready for such radical measures.
I know that in our salons peels are carried out using chemicals. But, as far as I know, the most effective removal of pigment spots is carried out with the help of a laser and photo procedures. It is necessary to conduct several sessions.
While I am doing it on my own and at the moment my spots are not noticeable. But if in the future pigment spots bother me even more, then I will go to the professionals.

Have you encountered such a problem? How did you fight?