Perhaps every woman dreams of beautiful hair, velvety skin, wonderful manicure. I, too, is no exception. I love when everything in me is beautiful and well-groomed. And I have a few little secrets-rules for how to achieve this. I want to share them today.
Timely washing is a matter of course. Due to the fact that I have very dry skin, in winter and spring I have to wash my hair more often than I could.
True, with the choice of shampoo great difficulty. Few things fit. But recently, I loved shampoos and conditioners from the Wella Professionals series.
And of course, masks to moisturize the scalp, strengthen the roots and hair growth, cooked yourself.
The most favorite for many years: yolk, honey, oil (olive, sunflower, wheat germ, burdock, etc.) and a spoonful of something strong (calendula tincture, cognac, vodka, etc.) to improve blood circulation.
I rub a little, on top of a bag and a warm hat. At least half an hour. I wash away my head as usual.
When rinsing using a light solution of apple cider vinegar (1 tbsp per liter of water) and a decoction of oak bark. Matter of course, not at one time, I alternate.
I also sometimes like to make a light scrub with sea salt. It's all very simple: when the hair is washed, I rub a small amount of salt in the roots for one or two minutes and then wash it off. The hair is then silky and very soft. Like after swimming in the sea 🙂
But for the summer I refuse masks and leave only gargling with a decoction of oak bark and apple cider vinegar. But the most important summer rule – a hat. Otherwise, then dry, brittle and burnt hair, which will have to be restored all winter!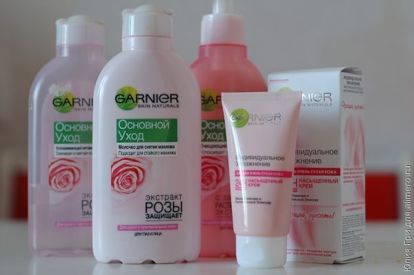 Moisturize and nutrition! These are my two most important rules in skin and body care. I love Garnier cream very much. As for me, they all have excellent series.
For the winter I prefer to buy something more nourishing and protecting, for the spring-autumn – a cream with a lighter texture. I also use makeup remover, a tonic and a wash with this company too. No, no, I'm not a fan who buys only this product!
On the shelf with cosmetics I can see scrubs of the Pure Line and Natura Siberica. Their delicate texture perfectly helps fight peeling.
And, of course, additionally masks and self-made masks. And I have a lot of them and all loved ones.
By and large, for their preparation you can use everything, here, perhaps the most important thing is, who likes what. My leaders in scrubs: fine salt and cream, oatmeal (we take zhmenka, slightly moistened with some water and rubbed between the palms until the formation of white milk).
By the way, great daily wash basin. Do you drink instant coffee? Do not rush to throw out the coffee grounds! Add a little sour cream or cream to it to soften, and an excellent scrub is ready. But the most important thing is not to overdo it. Otherwise, the skin can get a light tan.
In the summer – rest. The only thing that is necessary is sunscreen, here I prefer children. Last year, discovered the Red Hat – just lovely! For the face and body, children and me. And the price is very democratic.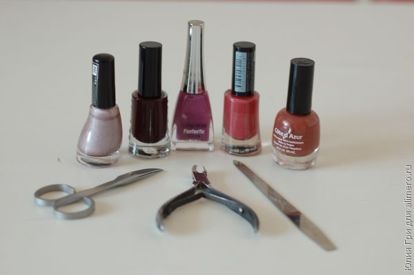 Manicure. For me, these are not long nails painted in all the colors of the rainbow. Although I will not hide, if I cover my nails with varnish, I don't avoid bright colors, but vice versa. And clean, well-groomed nails.
They may be long or short, they may not be (I mean length), but they must be clean and even (carefully shape using nail files).
Once a week, a maximum of two, armed with tweezers, nail files and other tools, I immerse my hands in a warm soap solution, and after that bring my nails in order. As an option – manicure room. For me, this is not an option.
Firstly, I don't trust my nails to others, secondly, I have been hurt there many times (I would rather do it myself), thirdly, for me it is relaxation.
Favorite hand cream Velvet handles for children. Very light texture, with excellent moisture.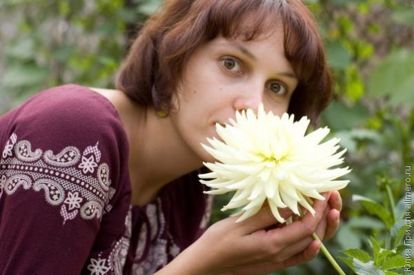 Being beautiful is easy! For this you need to love yourself, to be able to devote yourself time, and not just work, home affairs and family. And do not be lazy to care for themselves.