Beautiful legs – this is the dignity of women, so you need to protect them.
Today I want to talk about my complex foot care. I hope that my advice will help you to properly care for this part of the body.
Lots of cream and warm socks
Autumn began and now you can get warm socks, but not to warm up, but to do special procedures for the beauty of the legs.
Twice a month I grease my feet with plenty of baby cream before going to bed, put on socks and go to sleep in them. In the morning, the effect on the face – the skin of the legs is beautiful and smooth.
It happens that at night it becomes hot for me to sleep in socks, so I take them off ahead of time (well, I confessed), and the effect is already completely different. This is the case when beauty requires sacrifice, and you need to endure until the morning.
Especially critical to this procedure is the husband. He can't stand it when I sleep in my socks. Male heart and love want to warm me up themselves, and not to trust this thing to warm socks. Twice a month, he closes his eyes on my socks in order to look at them again in the morning and to make another compliment.
Legs love sea salt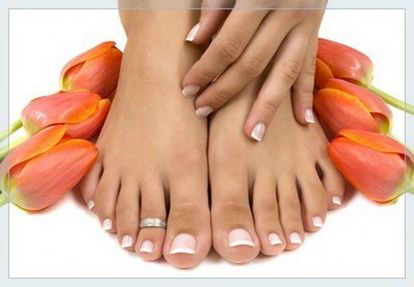 Many people know about the benefits of baths with sea salt, but not many people use this priceless treasure of beauty and health.
To make a foot bath with sea salt, it is necessary to heat 3 liters of water and dilute 3 tablespoons in it. sea ​​salt. Feet in the bath should be kept for 15 minutes, then thoroughly lubricate them with moisturizing nourishing cream.
Thanks to this bath you can get rid of tired legs after a hard day's work.
Some more favorite foot baths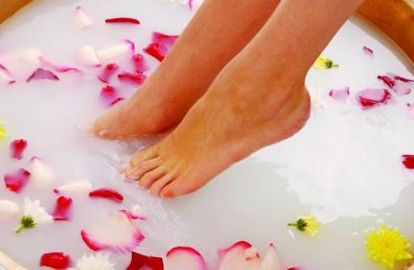 Foot baths I do very often in the summer, but in the winter they will be very helpful. Among the most beloved ones, there is a relaxing bath with rose and lavender oil, a flower bath with chamomile, a herbal bath with nettle, sage and mint.
1. Relaxing foot bath cooks very easily. In a tablespoon of honey we dilute 2-3 drops of lavender and rose oils. Then we add this fragrant honey to warm water and feet in it for 10-15 minutes.
2. Flower bath with chamomile. In 1 liter of water we boil 10 minutes 1 tbsp. Chamomile flowers under the closed lid. Insist chamomile gulls to a warm state and dilute the infusion with 1 liter of warm water. Before you lower your feet in this tub, throw a pinch of salt.
3. Herbal bath with nettle, sage and mint. 1 tbsp dry herbs (nettle, sage, mint) boil 5 minutes under a closed lid in 1 liter of water. Insist the infusion to a warm state, diluted with 1-2 liters of warm water and dip your feet in the bath. The bath lasts 15 minutes.
I would like to know what foot baths you are doing.