I think smooth and flawless heels are the dream of every woman, and I am not an exception. But in practice it turns out that this is not so easy to implement, because heels are the most problematic place of our foot.
And if the heels are not only dry, but also crack, then it is not only ugly and uncomfortable, but painful and even dangerous, because an infection, including a fungal infection, can get into the cracks and cause inflammation.
Conventional cosmetic and pharmaceutical cream does not always help, even with daily use. In addition, not every woman can afford to regularly visit a beauty salon. What to do?
Standard manipulations such as steaming, pumice, exfoliating scrub and softening cream did not help at all. Then I decided to ask the all-knowing Internet what should I do to forget about this problem forever (or at least for a while). The World Wide Web, as always, was answered by a huge number of miraculous recipes. And here are some of them my poor heels have experienced.
Due to a catastrophic lack of time, I chose those recipes that did not require much time.
For example, steamed legs with a decoction of flowers of calendula, chamomile, oak bark. At night, she made compresses from honey (10 nights), from vegetable oil – olive oil plus wheat germ oil, applied cabbage leaf. And nothing. From the vegetable oil, however, the heels became softer, but not for long, but the cracks did not pass.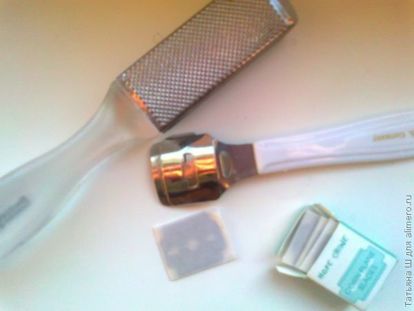 Already not knowing what else to think of and completely despairing, I found a simple recipe, which, to my great surprise, turned out to be effective, moreover, it is done quickly, and the financial outlay is minimal. So, I went to the pharmacy. But not for the usual cream for heels.
In the pharmacy, I bought calendula ointment, which has a disinfectant property (tube of 20 g) and a vial of liquid vitamin A (10 ml). In a small container well mixed ointment and vitamin A (the ratio should be 2: 1). She put it in a clean jar and put it in the fridge.
Every evening, taking a shower, a little steam out the heels and lightly treated with pumice. And coming out of the shower, she processed the prepared ointment not only the heels, but also completely the foot, and even the toenails, and put on cotton socks. Such procedures are done throughout the week. Then – twice a week.
Such a cream healed the cracks, and they ceased to be dry, and the toenails on the legs improved noticeably.