Hello everybody! I want to share with you my experience of using cosmetics Garnier. I have in the arsenal one good tool Garnier Clean skin 3-in-1 (gel scrub mask), which will be discussed.
I bought it for a long time, almost two years ago. I wanted to buy a facial scrub, and the seller in the store turned my attention to this tool and advised him to buy it, which I did.
It suffices for a long time, although, of course, it depends on the frequency of use. I use it 1-2 times a week, at the same time having previously well-steamed face. I am satisfied with the result.
So, first things first. To begin with, as stated by the manufacturer.
Purpose
This product is designed to care for problem skin. As indicated on the tube, it significantly reduces the number of acne, eliminates black spots, mattes and evens the complexion. The skin looks visibly cleaner for 7 days.
Composition
The main active ingredients: salicylic acid, zinc, menthol, clay, polymer balls. The whole composition look at the photo.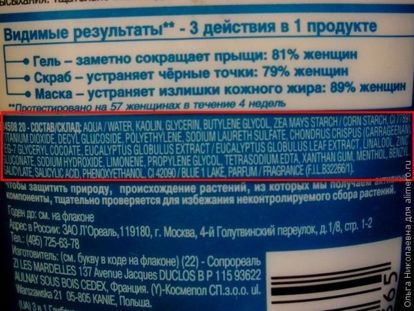 Application
Since the tool is 3-in-1, it can be used as three different tools – gel, scrub and mask.
Gel: apply daily on a wet face and rinse with water.
Scrub: apply on a wet face in a circular motion and rinse thoroughly with water. Perhaps daily use.
Mask: Apply to cleansed face, avoiding the eye area. Leave on for three minutes until dry and rinse thoroughly with water. Apply 2-3 times a week.
When using Garnier Clean Skin 3-in-1 we are promised such results.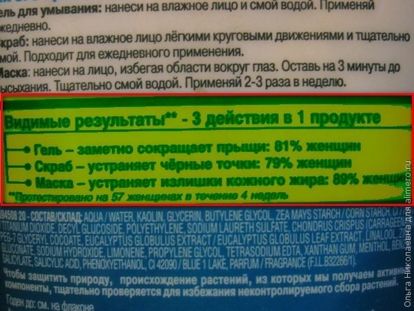 Tube – 150ml.
The average cost is 188 rubles. (47uah.).
I am pleased with the tool. But I use it only as a scrub that removes well dead skin cells from the skin. His consistency is thick with pumice particles.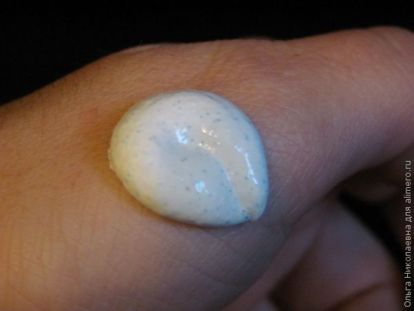 I use it a couple of times a week and only on a well-steamed face. After this procedure, the skin becomes smooth and matte. Feels light and pleasant chill.
I tried to use it daily, as a gel for washing, but I did not like it. With such frequent use, it dries the skin.
Tried to use as a mask, the effect is worse than when scrubbing.
The results claimed by the manufacturer are not fulfilled. Acne does not noticeably reduce, although I do not have them, but when they appear, the remedy does not help. Black dots do not eliminate. But well removes sebum, and perfectly scrubs.
I advise you to buy it only as a scrub.