When the apple season began, I ate them with great pleasure. Then I even spun a few cans of compote under the guidance of my mother-in-law))) To be honest, I resisted this, but she pressed me with her persistence.
Now I moved with apples to a new level of relationship))) They promised me beauty, and I agreed! I must say, I do apple masks regularly. There is a bag in stock, there is something to profit))) In short, my experiments on skin, hair and nails are unlikely to end on those recipes that I will share with you in this article today.
For hair, I have already tried several options. They are quick and easy to do, so you can mix different things every time)))
Apple with kefir. Just in a blender I make apple puree, mixed with kefir in the same proportions. Apply to hair for 15-20 minutes and wash off with lukewarm water. I perceive it as a strengthening. I must say that the hair after it has a beautiful healthy look.
Apple with honey. I melt one tablespoon of honey in a water bath, mix mashed potatoes with 2 tablespoons and rub them into the roots. After 20 minutes, wash off with warm water. I like all masks with honey in general, and this one is no exception. She feeds her hair. After it they shine.
Skin care
So that there are no jambs, I decided first of all to try a universal mask that is suitable in general for all skin types, including the problematic one.
For it you need not the apple itself, but apple juice. You can use the juicer. I do not have it, I rub the apple, and then squeeze the juice. I wet them with gauze and put on face for 15 minutes. Wash off with water at room temperature. As for me, with daily use, it significantly improves skin color.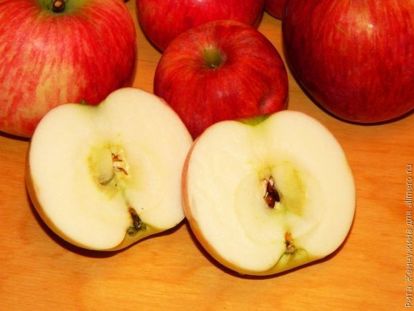 Marigold


It seems to me that many of my problems with nails come from contact with cleaning products. I can not get out less often, I am very annoyed by the dirt and the mess, and in gloves I am completely uncomfortable (((Here are my nails and suffer. Then, as a compensation, I am doing spa treatments)))
Such, for example, like this mask. I clean the average apple from the peel, rub on a fine grater. Add to mashed one teaspoon of melted butter. Stir and apply a lot of nails for 20 minutes.
Then, on the basis of this mask, my friend suggested I do another one. First, everything is the same: grated apple and butter, but now you still need to pour 100 ml of beer (better than dark). Stir and place in this mass of nails just as well for 20 minutes. Even when doing this mask twice a week, the effect is noticeable. Marigolds become stronger and no longer exfoliate.
I want to believe that at least one of these recipes will appeal to you, dear girl readers of the site!