I try to look after myself. As far as possible. My main care is face masks, masks and hair conditioners. There are no ugly women, there are just lazy. And you can not be lazy.
Timely peeling

I consider peeling a necessary procedure. Our skin is constantly updated, pushes the old cells to the surface. It is thus cleared. Here are just dead cells trap dust and dirt, make the skin dull. Therefore, all cosmetologists say that timely peeling is very important and extremely necessary.
For the peeling procedure, a good facial and body scrub is very important. I tried many scrubs. Some of them suited me perfectly, while others (by the way, not cheap ones) absolutely did not fulfill their functions. I believe that a good scrub should:
1. Clean the skin from pollution.
2. Tighten pores.
3. Give the skin an even tone of face.
4. Make skin healthy, beautiful and radiant.
Of course, we care first of all about the face. But other parts of the body also need care. This legs and pens. Therefore, I offer you the recipes of their home scrubs.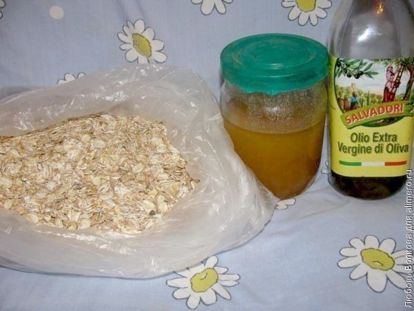 № 1. Oatmeal and honey

Both of these products are considered excellent scrubbed products. Oatmeal gently cleanses the skin, honey perfectly softens. True, you need to be sure that you are not allergic to bee products.
In order to prepare this scrub, you need to mix both ingredients in one pot. Ground oatmeal I take 1 tbsp. l And add as much honey. I use the scrub as needed, about 1-2 times a week.
I like this scrub. The good news is that natural peeling, prepared with your own hands, helps to get rid of dead cells from the skin surface. And this, in turn, makes the skin healthy and radiant.
№ 2. Lemon, orange, oatmeal

I consider this scrub to be powerful. Having read the recipes for home scrubs on the net, I decided to invent my own. He came out combined. After all, it has oatmeal, and almonds, and citrus fruits. But I take not the orange itself, but its peel and dry it. All ingredients in equal proportions I mix in a blender and interrupt in fine powder. To make gruel, add a couple of drops of olive oil (other essential) or honey.
№ 3. Coffee

Where without him? I do not throw away the coffee grounds, but I also prepare a scrub. Just add some honey. You can add sugar and lavender oil. But I'm doing it with honey. In general, the coffee grounds (no less than the coffee itself, by the way) contains many valuable vitamins, enzymes, antioxidants.
This scrub exfoliates dead cells. Also, caffeine molecules penetrate the subcutaneous fat cell, stimulating lipolysis in fat cells. The skin becomes soft, silky and incredibly tasty.
Of course, the finished product in a tube is comfortable and relevant. But sometimes it is unreasonably expensive and ineffective. Therefore, a home natural scrub here is very helpful. Tell me, do you cook homemade scrubs? What kind?