My micellar water Loreal is over. To replace, I bought a recently released new product from Garnier. Below I will tell in details.
The manufacturer (Poland) promises effective and convenient removal of makeup from the face, eyes and lips. Water gently cleanses and soothes the skin without friction. The micelles in the water remove impurities, sebum, and makeup. The skin is perfectly clean in one motion. Soft and gentle formula suitable for sensitive skin. Large format is enough for 200 applications.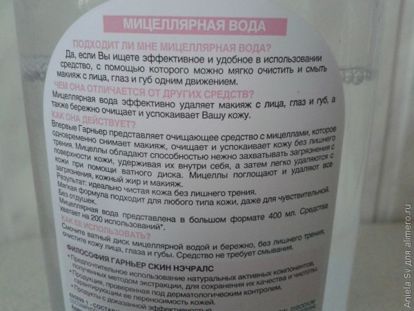 Packaging and appearance


This micellar water is enclosed in a large plastic transparent case with a comfortable, reclining cap (the dispenser closes). The cap is a positive pink color, slamming tightly. Shedding means seems to me unrealistic. The bottle fits comfortably in the hand, does not slip.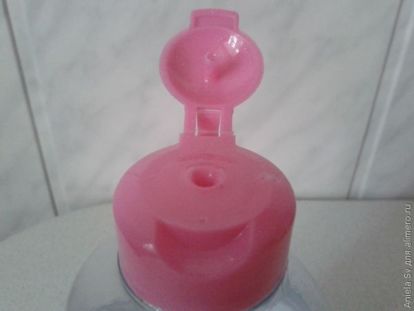 When shaking, I see water foaming a little. The water itself is clear, has a subtle scent. When removing makeup from the lips, I do not feel the taste. Volume – 400 ml – enough for a long time. However, taking it with you on the road is difficult, such a bottle will get in the way and take up a lot of space. I have it in the bathroom.
I wash the makeup with eyes and lips with this water when they are made up with not very resistant makeup products. One cotton pad moistened with this water is enough to remove makeup from both eyes. Water quickly removes makeup, copes with persistent carcasses and pencils. In contact with the eyes does not pinch, does not cause redness.
Although the manufacturer says that water does not require rinsing, I always additionally wash with foam after use.


Composition
In the composition of the water, hexylene glycol, glycerin, soft surfactants. The composition is short and effective.
If we compare it with Loreal micellar water, the benefit will be in the direction of the Garnier micellar water. Why? The technical characteristics are similar, but in terms of price, Garnier wins a lot. In addition, Garnier is more economically used. Cost – 379 rubles without discount.