Recently a friend gave me micellar water from L'oreal. I have already seen the advertisement of this water several times and everything was going to buy and try. Now I tried it out and want to share my feelings with you after using it.

Purpose
Micellar water is a facial treatment for cleansing and moisturizing.
This water is intended for dry and sensitive skin. Removes makeup and cleanses the skin of the face and eyes. Does not require additional rinsing with water. Does not cause skin irritation. Suitable for face, eyes and lips.
On the back of the bottle we have this composition.
Water, hexylene glycol (exfoliating properties), glycerin (moisturizing properties), poloxamer 184 (cleansing properties), disodium cocoamphoacetate (detergent properties), disodium EDTA (water softening), polyaminopropyl biguanide (preservative, used as an antibacterial additive).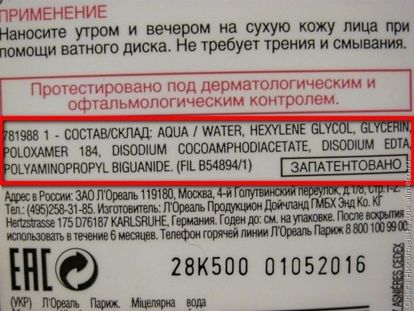 Does not contain fragrances and alcohol.
In my opinion, there is nothing criminal, but this is probably how to look. I am not a chemist.
Application
Apply in the morning and evening on the skin of the face and eyes with a cotton swab. Does not require rinsing with water.
Bottle of 200 ml, which must be used within 6 months after opening.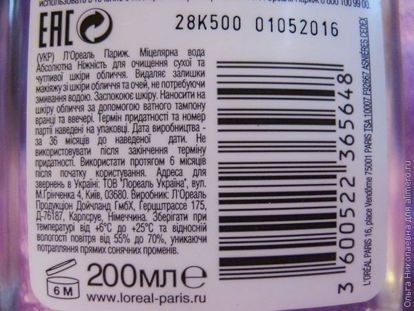 Cost – 176 rubles. (44 UAH).
My impressions
Cute bottle, convenient to use. Good volume, enough for a relatively long time.
Water is odorless, resembles water in appearance, does not leave any greasy marks or feelings of discomfort on the skin.
I have enough three cotton pads to completely clean my eyes and face from makeup. If you use waterproof mascara, you have to wipe the eye several times, but this does not cause any inconvenience. I rub gently, do not stretch the skin and get excellent results.
The only negative – if it gets into your eyes, it stings. But I have such trouble with all the makeup remover. I hope that the inscription on the vial tested under dermatological and ophthalmological control corresponds to reality, and this does not affect the vision.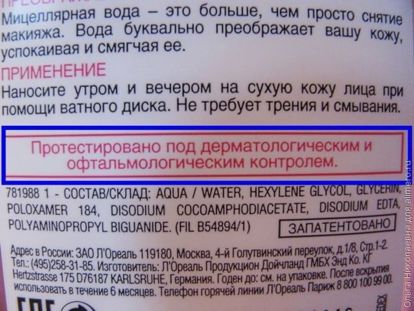 After using micellar water from L'oreal, my skin becomes clean, pleasant to the touch, I have no redness or irritation. Perfectly removes impurities and sebum from the skin.
Here is a review. I would like to hear who else is using this water, and what impressions you have from it.