From the age of 14, I have been suffering from problem skin. That only I did. I treated the stomach, used various masks, lotions, applicators, but only one remedy helped me.
How it all began

Klerosil, who was popular at the time, did not fit me – the skin on my face reddened, and then she got off. Further trips to cosmetologists, cleansing, peels, doctors as one asserted: The transitional age, will pass by itself.
But in itself nothing passed. My aunt brought me expensive carrot creams from Germany and professional lotions from exhibitions, but the foundation was my only salvation.
Different means

When I turned 17, I started using more expensive products. Zenerit, Dalacin, Differin, Clindovit, and similar drugs helped well, but were addictive. The skin stayed clean for 2-3 weeks, and then again became covered with disgusting acne.
I ate beer yeast. They did not help my face, but my nails became strong and long. However, this remedy had side effects: I was fat. But I still got off easy, my girlfriend after these pills began a hormonal failure.
After that, I firmly decided not to take any medicine inside, without consulting a doctor.
After all these attempts was darsonval, calendula, various baltushki (grandmother's recipes). The result did not meet my expectations.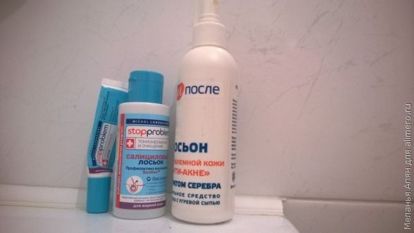 I found a way out

The last thing left to try is mesotherapy. And you will not believe it helped me. In the salon this procedure costs a lot of money, I decided to try this method of getting rid of acne at home.
I read a variety of manuals, watched a lot of videos, ordered mezoroller and gel via the Internet.
It was scary, afraid to bring the infection. But, strictly following the rules, I got what I had always dreamed of – a clean face. No, it is not perfectly smooth, the black dots still remain, but it is really clean compared to what it was.
I do mesotherapy every 2-3 weeks. If the face is covered with acne, then more often. Every day I use lotions that do not contain alcohol and creams.
I like medical cosmetics Stopproblem, Before and After and Bee celandine. It will not completely cure acne if the case is severe, but as a supplement it will completely come off. Although many of my girls helped.
Proper nutrition also gave pros, I stopped drinking juices, soda and other hazards, but did not give up fried, spicy and sweet.
I hope that my article will help someone to find their means. I will answer all your questions, dear readers.