This tool is from the series Perfect skin. For the purchase I was seduced by the price and the promise of instant dullness. By the way, the series is not as strong fragrances as other brand products.
Like most women, my skin is of mixed type. In summer, shine in the T-zone is a common occurrence for me. I had some kind of matting cream a few years ago.
I did not notice the matting from it, so for a long time I did not pay attention to such creams. Until I read the praise on the clean line of aqua-cream instant dullness Perfect skin. When I saw its price – 55 rubles for 50 ml, I took it without hesitation.
And, running ahead, instant dullness (promise from the package) – not empty words!
Composition, smell and texture
The cream was packed in a box, and it is in a plump, comfortable tube. In general, I like cosmetics in tubes, where I don't have to use my fingers.
In the composition of the active components of zinc (he, in fact, mattes) and eucalyptus extract (struggling with imperfections, cleanses the skin). I also counted several silicones and ethyl alcohol. But the cream does not roll on the skin, as many products with silicone. And he does not clog pores at all.
The smell, as for the Pure Line, is just lovely – fresh, with a slightly audible citrus note. Very unobtrusive, a minute after application, I no longer hear it.
The consistency is very light, gel-like, non-greasy. White colour. On the skin, the cream seems to melt and is very thin and easily distributed. Economical.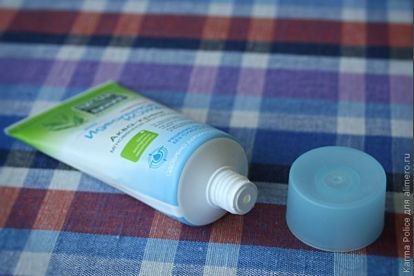 Application and result


The manufacturer recommends applying the cream in the morning and at night. I do not need matting of the skin at night, in the evening I use a simple moisturizer. But in the morning after washing and toning I apply this aqua-cream.
It is absorbed gradually and completely. No tightness, stickiness or film on the skin. The skin becomes smooth and velvety. And most importantly – matte! After 5-10 minutes you can apply makeup.
By the way, the cream is very good as a makeup base. But if the skin is clean, then powder is not needed with it.
This is probably the best cream for me for the summer. 12 hours without shine, as the inscription on the label promises, of course not. But 6 hours after applying the cream the skin does not exactly shine.
And aqua-cream is just perfect for lightening tonal resources. On the back of my hand, I squeeze a little bit of BB-cream from Garnier and the same amount of aqua-cream. I mix with a cotton swab or a finger and put it on the face. As a result, I get a light and matting BB cream.