I recently acquired Vitex cream. I bought it not by chance. Specially looking for him throughout the city. The fact is that this cream is considered the most effective in the fight against cellulite and at the same time is quite inexpensive. I bought it for 105 rubles (35 hryvnia).
After giving birth, I became very thin and I had no problems with cellulite. But now I began to recover, and therefore decided that a course of massage with anti-cellulite cream will help me to solve the problem with being overweight.
A series of body creams Vitex consists of several types of cosmetics. I bought anti-cellulite massage cream Vitex. This cream is developed by the center Belita-Vitex and is produced by the Belarusian company.
Description of the massage cream Vitex
The cream is sold in a 200 ml green vertical soft tube. The hole for squeezing the cream is small, which saves it when using. The cream contains the following components: 5 essential oils, caffeine, seaweed extract, oil extract of red pepper and extraon of grapefruit.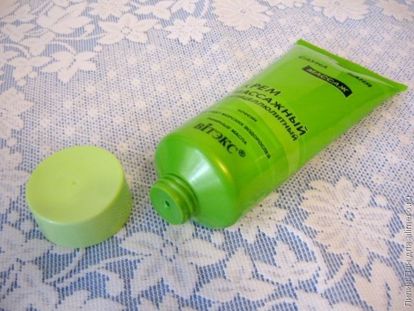 Such a powerful anti-cellulite complex is able to improve the blood circulation of the deep layers of the skin during the massage, strengthen the drainage, and free the problem areas from unnecessary water.
The manufacturer on a tube of cream promises that by applying Vitex cream to massage, you can solve the problem of stagnation in the subcutaneous adipose tissue and prevent the formation of an orange peel on the skin.
My experience using Vitex cream
I connected my spouse to the anti-cellulite massage. He has some skills for conducting such procedures. Before starting the massage with this cream, you need to clean the skin with a scrub. This is important because otherwise during anti-cellulite procedures with Vitex cream, there will be a lot of exfoliated keratinous skin.
After cleansing my skin, I was massaged. At the time of its holding, at first nothing is felt, but after a couple of minutes the body begins to burn. This effect is achieved due to the presence of red pepper in the cream. After 20 minutes of massage, I took a shower without cosmetics in order to wash off the remnants of the cream on my body.
I also tried to make wraps with Vitex cream. At first I massaged them to the problem area of ​​the body. Then wrapped this part of the body with cling film for 20 minutes. During this time, I felt strong heat on the body under the film.
I noticed that massage and wrapping with Vitex cream really have a positive effect on the skin and remove the appearance of cellulite.
And how did you use anti-cellulite cream?