Usually only by the summer we have some kind of fruit. But in winter, gnawing apples all day. It seems to me that I can eat them a whole ton. Of course, such a useful fruit is valuable for our appearance, because of it you can make a lot of masks for the skin. I'll tell you about your loved ones.
I myself only recently learned that the rejuvenating apples (literally, because they contribute to the extension of our youth) must be specifically chosen for different skin types. For fat you need to take sour varieties, and for dry – sweet.
We begin, perhaps, with a mask for hands. It will require not only ingredients (half an apple, 1 tsp of honey, vegetable oil and yolk), but also free 10-20 minutes, since you can't do anything with this mix on your hands, just sit in front of the TV. But after applying the skin becomes velvety, as after using paraffin.
I conduct the procedure as follows. I mix all the ingredients, rub an apple on a grater. I put my hand on the sachets and spread the mixture on the outside of my palm. Then I wrap the bag and tighten the mitten on top. Then I call my daughter and ask him to do the same with the other hand. After the time the mask is washed off and the skin is smeared with a greasy cream.
Face masks

We now turn to face masks. I do these:
With milk

With this kind of mask will have to tinker in the kitchen. We take an apple and milk, put the apple right in the peel in a saucepan, pour it over with milk and set it on fire. Wait for the boil and reduce the temperature in the hotplate to a minimum. The peel should begin to lag behind, then we take out the fruit, sand it and mash it. Add milk to make gruel.
Apply on face for 20-30 minutes. After washing you will notice that the skin has become moist and soft. The inconvenience of this mask is that it runs down the face, so it has to constantly renew and collect apples around it.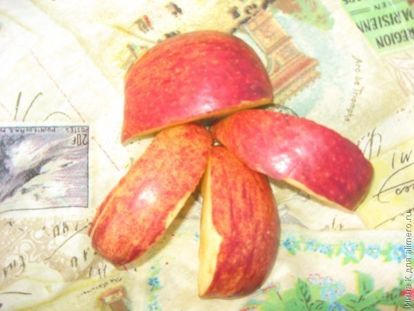 To refresh the skin, mix in equal proportions grated apple and carrot and apply on face.
This is a mask for those with dry skin. Mix grated apple and sour cream and apply. After applying the face will literally shine.
This is a real first aid for weathered or dry skin. Mix grated apple with olive oil and apply the mixture. As a result, the skin will soften and the feeling of tightness will disappear.
For the lazy

If you are too lazy to do all these procedures, just wipe your face with a piece of apple and after a while you will feel how it has become fresher and your skin has become like a filling apple 🙂
Do you use apples in home cosmetics?