This is a whitening mask from the Whitening series. I use it not because I want to make the face whiter. This mask is an excellent acid peel. It helps to get rid of dead skin particles, and with a bonus removes pigment spots, acne marks and soothes inflammations.
I have neither the desire nor the means to go to the beautician every week. But I want a healthy and clean skin! Therefore, I do acid peeling at home. Sounds, of course, frightening. But you should not be afraid, acid peeling is the oldest beauty invention, which was discovered in ancient Egypt.
Its essence is simple – crushed fruits with a high content of acid are applied to the skin: grapes, citrus fruits, apples and strawberries.
Fruit acids exfoliate the stratum corneum, the result is youth and beauty.


But there are but – these are contraindications: allergies, skin diseases, open wounds, birthmarks, and very sensitive skin.
Vitex Whitening Mask
Vitex is a brand of Belarusian cosmetics, it is available both in Russia and in Ukraine. I didn't think about skin whitening, I was advised to peel it.
In the first positions in the composition means white clay and acid. These ingredients cleanse and exfoliate the skin. The percentage of acids is very gentle: 10% fruit and 1% salicylic. Also composed of lingonberries, lemon and pectin. They are designed to moisturize and strengthen the skin.
The mask is packaged in a tube 100 ml, it costs 80-100 rubles. Off-white like kaolin. Pretty liquid. No, she won't run away from her face, but easily from a tube.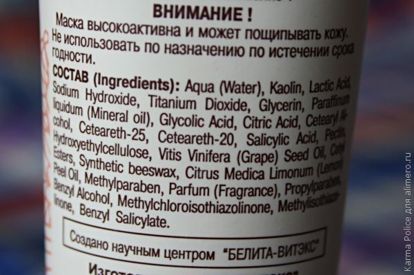 Application
I use this mask only once a week, and in the instructions for use it is written to apply 2 times a week with a course of 2-3 months.
I apply with an average layer, I maintain 20-25 minutes. During this time, it dries out a little, but not to clay crusts. The first minutes, the skin tingles, if there is inflammation – pinches mercilessly. It is washed off pretty quickly, you can even roll it off your face.
The mask is magical. After the first application, I noticed that the peeling dissolved, the pores were cleansed. Further deep cleansing – lightening of pigment spots and post-acne, even relief, healthy complexion, skin is smooth and elastic. No dryness or irritation.
If the point inflammation bothers, then I apply a mask for a day or two directly on him, and that's all – he was gone!
I use this mask both in winter and in summer. Only here in the summer I do it for the night, and in the morning I must have a cream with SPF so that there is no more pigmentation.
I will buy more than once and advise everyone.