Girls, today I will tell you about my most beloved face mask for the summer period – this is a cleansing mega-tinged mask Mask of Magnaminty Lush.
The manufacturer (UK) promises skin cleansing for its idealization. Can be used on face and body. Does not irritate sensitive skin. The mask is made by hand.
The mask is packed in a plastic black jar with a screw cap. The bank is made of 100% recycled plastic, which I really like, as the company cares about the environment. Also in the system of stores Lush provides a situation where you can return the jar to the store for recycling, and not throw it away, thereby polluting the environment.

On the jar it is indicated who made this mask – in my case, this is a girl.
Weight 125 g, there are still large jars of 230 g. But since the expiration date of the mask is small (4 months), I buy small jars so that it does not deteriorate.
Appearance and application
The first thing that catches the eye, or rather the nose, when opening a jar, is the powerful smell of mint. I really like it, ready to sniff for hours). The mask is thick, not flowing, pale green in color with black splashes. Easy to apply and spread over the skin. When applied significantly cools, which is very pleasant in the summer.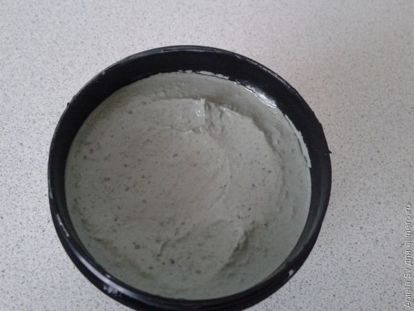 I put the mask on my face with a generous layer and leave it for 10 minutes. During this time, it dries, but does not tighten the skin. Wash off easily. After rinsing, the skin is tender, cleansed. You can not even use the scrub paired with this mask, as there are some scrubbing particles in the mask.
I use a mask once a week, because more often I just don't do cleansing masks. After it, I usually use a moisturizing or nourishing mask, as the mask is still based on clay and can dry my dry skin a little.
The composition is exceptionally natural and the most useful: clay, honey, ground beans, glycerin, peppermint and marigold oil, vanilla and primrose extracts. My skin is very pleased with this composition and responds extremely positively.
Are you still not running to buy it? Then I advise you to do this. Remarkable mask with a super-composition and at an affordable price (250 rubles for a jar of 125 g).