All those who have daughters, I think, will understand me in my desire to support all the beginning girl needs. When little eyes light up when they see the image of a princess on a bottle with something, it's hard to resist and not buy a tube.
Shampoo of the same company, my daughter and I have already tried and we really liked it. When the turn came to choose a new detergent, the choice fell again on a tube with a charming fairy.
Shower gel for children from 3 years, is designed to soften the water, wash the body well and of course, smell good. Manufacturers have also added a complex of nutrients to the composition, and many useful substances.
Here, as with all similar products, the second place is not a very useful chemical substance – Sodium Luret Sulfate. Its negative impact has not been proven by scientists, but still, I am sometimes alarmed by the conversations around it. Pleases the presence of many fruit extracts, juices and oils.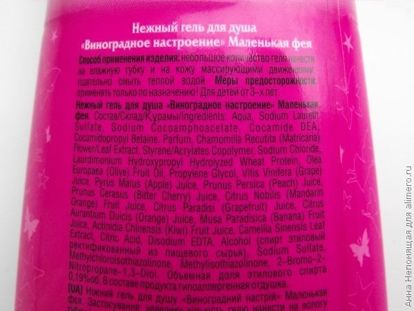 Impressions of use
Of course, I could not resist and used the gel itself. The consistency of medium density, it easily flows out of the bottle. The lid on the bottle is not very tight, but the child cannot open it either. I liked the smell the least. Fragrance chemical, smells of grapes only after the first stifling wave of powdery smell.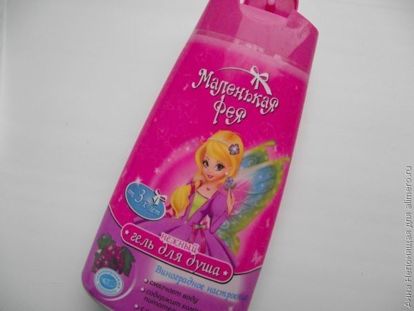 He foams well, like all products containing SLS. Personally, I dry my skin is just incredible. My daughter did not complain, I think she still doesn't pay attention to such details, but I use her body milk or cream for prevention several times a week.
Mediocre shower gel. He didn't conquer me either by smell or lathering abilities. Most definitely not buy, for the most part because of the smell. Perhaps other options for this shower gel are more pleasant to use.
It is worth about 17 USD. or 70 rubles. for a bottle with a capacity of 240 ml.
And what do you wash your grown-up children?