I once walked with my daughter and talked with one mom. Word for word, and she told me that she has long been using only natural products as cosmetics. She began to do this after being fascinated by a detailed study of the composition of various cosmetics and realized that they were by no means safe. Especially my friend stopped at linseed oil.
Linseed oil has a unique chemical composition. The content of unsaturated fatty acids exceeds even fish oil. These are Omega-3, Omega-6, Omega-9, and also other unsaturated fatty acids. Flaxseed oil is rich in such vitamins as A, B, E, K, F. These vitamins are indispensable for our hair and skin. They inhibit the aging process, as well as nourish and moisturize.
If these substances do not enter the body with food, then this is reflected in the appearance. The skin becomes dry and flakes. This is where linseed oil will become an indispensable assistant.
Application for skin
In general, my new friend advised me to take linseed oil inside. After all, the composition of the oil is in many ways similar to fish oil, which means that you can eat a spoon for prevention. But it did not go with me, because The product has a specific taste. I decided to use it only for external use.
First of all, I started smearing it several times a night cream several times a week. I have dry skin and I literally felt like she was quietly happy. This procedure is very useful for sensitive skin and that which is prone to flaking. I think in the winter flaxseed oil will often appear on my face. But just not worth smearing it around the eyes, this area is gentle, and a heavy tool.
I also tried to make just such a mask. Took 1 tsp. honey, 1 yolk, 1 tsp. flaxseed oil and applied this mixture to the skin. After 15 minutes, the mask can be removed. This is an excellent nutrient that softens the skin. Such a mixture can be covered with mud. For example, rub your elbows, knees, apply on hands and heels. Soften everything 🙂
Hair application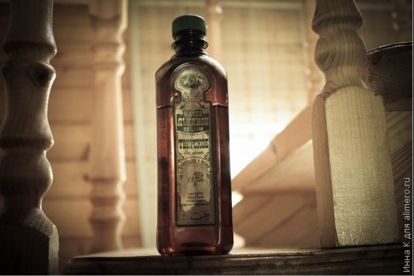 Another flaxseed oil can be used for hair. If applied on the scalp, it is possible to get rid of itching and dandruff. And you can still use it to fight against split ends. It is necessary to warm it up in a water bath and, for 2 hours before washing your hair, lubricate the ends of your hair with it, and then wash your hair as usual.
And I was recommended to make the following mask. It is necessary to mix flaxseed oil and lemon juice and heat them in a water bath. Then drop a couple of drops of your favorite essential oil and apply a mask along the entire length of the hair. That means worked better, it is necessary to put a hat on the head and to wind a towel on the head.
After 2 hours, you need to wash your hair with shampoo, otherwise the hair will remain greasy. If you make this mask regularly, the hair will get shine, will become delicate and silky.
findings


Flaxseed oil is helpful in every way. And inside, and for skin, and for hair.
Do you use linseed oil for cosmetic purposes?