Until recently, the word patch I caused only associations with patches and patches, because the word patch is translated from English. It turns out that this term is actively used in cosmetology. Moreover, patches are not something very exclusive and expensive. And today I would like to share my impressions of their use.
Patches are a base material (usually cellulose) that is impregnated with active ingredients. Surely all of you used such cloth masks with slits for eyes and lips, so, this is the patches.
There are patches for the face, nose, skin around the eyes, acne and wrinkles, for narrowing and cleansing pores, decongestants, etc.
If you compare the effect of cosmetic masks in tubes and patches, the latter are more effective due to the fact that the skin gets more active ingredients due to the effect of the film. Another advantage is that when using patches usually do not need water. That is, you can use them not only at home, but also in the office or plane (before an important meeting or shooting, for example, when you need to quickly give a person freshness).
Korean eye patches
Last year I saw in Instagram a photo of one famous TV presenter, on whom she was with unusual for me under the eyes and the signature I hurry to shoot. Then I tried to find out what the mysterious remedy for dark circles was, but the search engine ignored my requests, but I somehow did not guess how to search for the word patch. And recently I saw this word in a women's magazine and decided to try the effect of the patches on myself.
Based on the information on the cosmetic forums, I wanted to try Korean patches, because there were a lot of good reviews about them, and the price is very attractive. You can, of course, order them on the international trading floors, but I did not want to wait and found a seller from my country, who had a large amount of Korean cosmetics in stock.
I purchased packaging from 30 collagen patches (15 pairs) for only 180 rubles, it is enough for me to use them 1-2 times a week. They have a standard action, like many of the masks for the skin around the eyes: toning, moisturizing, against wrinkles, swelling and dark circles. There are, of course, different options – even patches with liquid gold, but I decided to try the most budget option.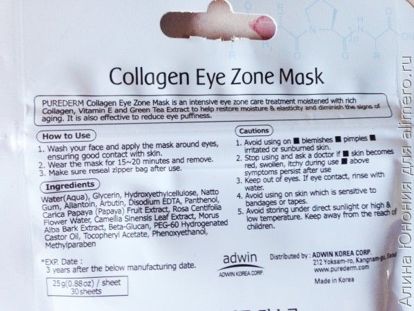 It is very easy to use patches – pull them out of the packaging, attach them under the eyes and remove them after 15-20 minutes. The package, by the way, closes with a lock that prevents the remaining patches from drying out.
By the way, while wandering through sites with cosmetics, I learned that even reusable patches can be made with my own hands! The basis of their gelatin, plus all sorts of active ingredients for every taste. Keep them in the refrigerator and they are suitable for more than one month. But, to be honest, I don't want to buy homemade cosmetics from unfamiliar masters, but I also don't do what I can afford to buy inexpensively.
So, my impressions are wonderful. And not only me, because for the company with me the patches were ordered by five more girlfriends and my mother. The skin after use really looks fresher and younger. Yes, and the feeling is very pleasant – there is no tightness and discomfort. And if I use Korean patches in the evening, there is not even a need to use a moisturizer.
Patches are a great option for those who are lazy or suffer from a lack of free time for themselves. Unlike cream masks, patches do not need to be smeared, they do not stain clothes and people around, they do not need to be washed off with water or tonic, and, of course, the effect.
In general, next week I will order a new batch, taking into account not only myself and girlfriends, but all of our mothers and mothers-in-law!
Have you tried Korean patches under your eyes? Share your impressions! And if not, then by all means try, you will not regret!