The company Johnson Johnson produces a very well-known children's cosmetics: shampoos, oil, and more. I tried a series of cosmetics for adults, and I liked it. True, it is more expensive than similar products of other firms.
I bought these three funds in a gift set. And when calculating how much each costs separately, it turned out that I got the hand cream for nothing. And so the shower gel and body lotion cost 120-140 rubles, hand cream – 80-100 rubles. Gel and lotion are made in Italy, and hand cream in France.
Johnson's body care 24 hours moisturizing
shower gel for all skin types
I am a resident of the metropolis. My every day begins and ends with a trip to the shower. Cleansing is good, but daily exposure of the skin to cleansers and chlorinated water is stressful for her. The skin is tightened, it dries and flakes.
I used to wonder: how can a cleanser be moisturizing? After applying this gel, I understood that it moisturizes because there is no tightness. It is not too thick, but it foams well. The smell is very pleasant, creamy and unobtrusive, does not linger on the skin.
On the manufacturer's website, I read that the composition of the shower gel is designed to meet the standards for pharmaceuticals and children's skin care products. Therefore, without fear for the skin, I even wash my face with this gel.
By the way, the line of products includes shower gel for dry skin with almond oil, called ultra nutritional.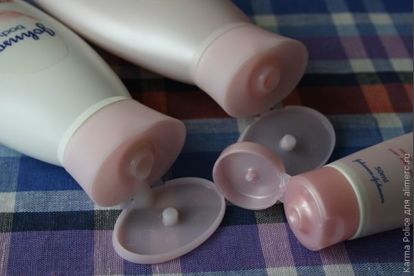 Johnson's body care 24 hours moisturizing
body lotion for normal skin
If after a shower I just get soaked with a towel, then on the shins in 5 minutes a white net of dry skin with shells appears. Therefore, I need a moisturizing skin lotion.
Johnson Johnson promises that the lotion will provide effective skin hydration for 24 hours. I will tell you that I use this lotion 2 times a week, and the skin no longer peels off.
The lotion is quite thick, but falls on a very thin layer, even on dry skin. It is not immediately absorbed, it is necessary to wait 5 minutes. The smell, like that of the gel, is calm and creamy, quickly disappears.
In the line another 4 lotions with different oils and honey, as well as body cream.
Johnson's body care 24 hours moisturizing
hand cream
How many times a day do you wash your hands? I have 10 times for sure! Soap and water dry the already dry skin. Therefore, I have hand creams everywhere: in the bathroom, on the bedside table, in the bag and in the car.
Johnson Johnson describes this cream as an unusually soft moisturizer. The skin remains tender even after washing hands, thanks to nourishing oil and moisturizing squalene.
The cream is thick, but not greasy at all, absorbed instantly. Smell delicate cream, like the entire line. I use it during the day, and at night I need a fatter cream.
The only tool in the line that I no longer buy. Because for such a price other companies have better hand creams.