I met Frulatte cosmetics quite unexpectedly. A set with body care products was brought to me by a brother from Israel as a gift.
The kit includes the following cosmetics: hand cream with avocado oil and vitamin E, foot cream with pomegranate and mint extract, as well as facial soap with cucumber and green tea extract. I do not know why, but I began to use the gift of my brother for cosmetic purposes not immediately, but after months.
My experience with the use of creams Frulatte
All tubes in the set have a very bright and beautiful look. On a vertical tube with a 100 ml hand cream, avocado is shown. Foot cream is in a tube with a beautiful pattern of red pomegranate. The volume of its packaging is also 100 ml. And the soap for the face is contained in a vertical tube with the image of a cucumber.
On the packages of all these tools there are inscriptions from the manufacturer in English and Hebrew. It was interesting to consider these inscriptions, because it is very unusual for me to see a Hebrew text on a tube of cream.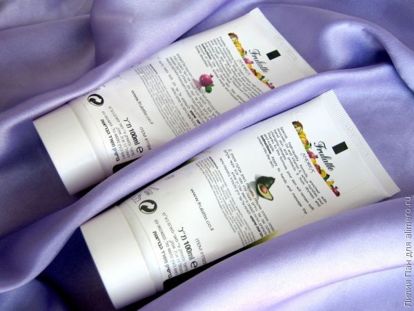 It is very convenient that on the tube with the hand cream in a prominent place there is an image of the palm. And accordingly, on the tube with the foot cream – the foot pattern. These images on cosmetic products can distinguish their purpose, even if a person does not speak the languages ​​that are used to describe the creams on the tubes.
Of the first three, I began to use soap for washing. It perfectly washed off the makeup and cleansed the skin. The soap consistency was liquid, and I would call it a gel for washing. It ended with me a long time ago. I was very pleased with his action.
Frulatte hand cream is a pleasure to use. When applied, there is a feeling of freshness and moisture on the hands. It is quickly absorbed into the skin and the sensation of velvet or velor remains on its surface. I have never seen such a pleasant effect in any hand cream I used before. Cream Frulatte well softens and moisturizes the skin of the hands. It has a pleasant smell.
I also liked Frulatte foot cream very much. It perfectly softens and nourishes the skin on the feet. It helps fight leg fatigue. The smell of the cream has a light and pleasant sweet touch.
Did you use Frulatte cosmetics?