What only women do not come up with to conquer all their beauty. In order to look great, there is no need to buy expensive skin care products, something can be easily done at home.
I discovered cosmetic ice for a long time, my mother constantly uses it.
It perfectly tones the skin, refreshes it, and also improves the complexion. As soon as ice touches the skin, a narrowing of the surface vessels occurs, as a result there is an increased blood flow.
After the procedure is completed, the vessels expand again, the capillaries are filled with blood, and the skin begins to breathe. Metabolic processes are strengthened, wrinkles are smoothed and blush comes.
I want to share with you some recipes that I use myself. I recommend making ice not from ordinary water (although it can also be made from it), but from decoction of herbs. To do this, you need one tablespoon of a mixture of herbs (or one type), pour a glass of boiling water and keep it for about 15 minutes in a water bath, not forgetting to stir it occasionally.
The most suitable herbs for such a decoction: chamomile, calendula, mint, string, lime blossom, sage. Herbs can be combined with each other. I like most of all the frozen decoction of calendula and mint.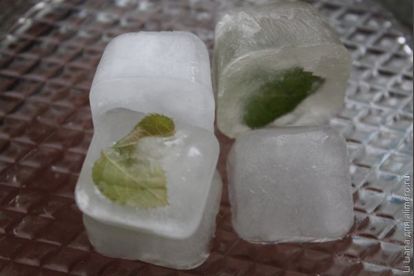 Green tea also perfectly tones the skin. I brew green tea (not the one in the bags) and pour it into ice molds. Rejuvenates skin ice with lemon juice. For its preparation you need to squeeze half a lemon into a glass of boiled water.
You can also freeze the cucumber slices. And in order to whiten the skin, you can freeze the slices of grapefruit (peeled from the film).
I would also like to note that it is necessary to drive a piece of ice across the face along the massage lines, as well as apply the cream. In these places, the skin is least stretched.
And one more important caution: you do not need to be especially zealous in order not to overcool the skin. The whole procedure should be a total of not more than 5 minutes. And to store ice depending on the composition is recommended no more than a week.