I can not imagine my life without makeup. I can go unpainted for a walk with the child or to the bread shop, but I always do makeup before going to work. Foundation, powder, eyeliner, eye shadow and lipstick are the necessary minimum that should always be in my makeup bag.
Toward evening, I get the feeling that my face is covered with a layer of dust and the skin has stopped breathing. Therefore, I immediately go to the bathroom – get rid of the remnants of cosmetics and clean the pores.
Previously, I did not pay enough attention to the procedure of makeup removal. It seemed to me that washing with water using gel or foam was enough. I confess that I was just too lazy to spend time trying to wash off the cosmetics correctly. And that such washing harms my skin and can lead to premature aging, I did not even think.
This happened until a friend working as a beautician in the salon invited me to a face cleansing procedure. It became interesting to me, and I came. During the procedure, she, noticing clogged pores and peeling of the skin, asked how I take care of my skin.
It turned out that apart from washing and applying creams I had nothing to list. Then a friend told about all the secrets of makeup removal, which I want to share with the participants of Alimero.
1. Never wash off make-up with soap, as it dries the skin, causing microcracks and irritation.
2. Be sure to use products suitable for your skin type. For oily skin, these are gels; for dry and normal skin, cosmetic creams and milk.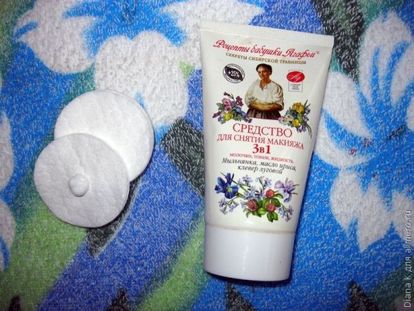 3. Rinse makeup should be in the following order: lips, eyes, face.
4. A special cosmetic sponge made of cellulose copes well with cleansing the skin. They thoroughly wash off cosmetics without damaging the skin.
5. When removing mascara from the eyelashes, try not to stretch the skin of the eyelids. Movement must be extremely neat. Use cotton pads and special eye makeup remover.
6. When makeup is removed, wash with warm water. This will allow you to completely remove the remaining particles of cosmetics from the skin.
7. Do not rub the face with a towel, because the skin does not like stretching. Movement should be neat, wet.
And finally, the last tip. If you suffer from allergies to cosmetics, you can remove makeup with oil. Refined sunflower, olive, little wheat or peach are suitable for this purpose. I admit that this method rescued me more than once when the makeup remover was not at hand.
How do you wash your makeup?