After giving birth, I was faced with such a problem as loose skin in the abdomen. This is not surprising, because it stretched for several months. The same problem faced by many girls after losing weight.
Lose weight correctly

In order that such a problem does not arise at all during weight loss, it is necessary to abandon rapid weight loss, it must be gradual. It is necessary to lose no more than three kilograms per month. Because the skin has been stretched for a long time and should shrink in the same way, gradually. However, if you still encounter such a problem, then there are several correct ways that perfectly solve it.
Drink plenty of water

This is the golden rule if you want to tighten the skin. You need to drink at least two liters of water per day, and it is desirable to drink water, and not tea or coffee. With the help of water, slags are removed from the body and the skin's water balance is maintained, and it, therefore, becomes more elastic.
Cold and hot shower

It must be taken every day. Alternate the flow of hot and cold water, at the same time, massaging problem areas with a massage mitt or a special massage brush. I usually take a douche in the morning. It helps to cheer up better than any coffee!
Wraps

Wraps are different. You can buy ready-made in the store or order via the Internet, or you can cook it yourself using simple tools at hand.
From the store I like most Alganika wrap. I ordered it through joint purchases in our city and it cost me about 600 rubles. It consists of white clay, kelp, ginger, red hot pepper, nicotinic acid and corn oil. It is necessary to put it on problem areas, wrap with cling film, wear warm tights and walk for 30-40 minutes. Not less!
The simplest of homemade ones is a wrap based on mustard and honey. Mustard must be diluted in hot water, to a mushy consistency, add a few spoons of honey and continue to act, as with shop wrapping: film, warm tights, walk 30-40 minutes.
Sport, sport and more sport!

It is a necessary component of both healthy weight loss and skin tightening. I do Bodyflex with Greer Childers. This gymnastics, based on a set of breathing exercises and positions that resemble positions from yoga. They tighten the skin very well, tone the muscles and remove the volumes. For 4 months I lost 4 centimeters at the waist, 3 centimeters with each leg in volume.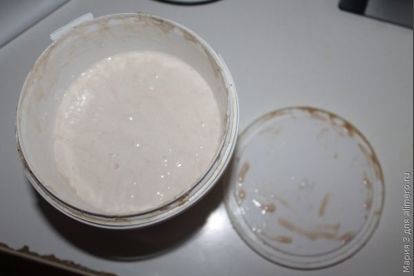 If you use the above methods in the system, the result will not take long. I brought my figure in order and fully tightened my skin after giving birth in 4 months. The main thing is a systematic, consistent work and you will look wonderful!