The area around the eyes is very delicate. There are no sebaceous glands, the skin is thin. Wrinkles appear early here, and to cope with them is not easy. Especially early wrinkles appear on dry skin.
I just belong to the owners of this type. In her youth, she was beautiful, hassle-free (I always had a good complexion and never had acne), only it begins to age quite early.
I understand that what has become old will not be young. But to resort to the help of modern medicine, for example, I am not yet ready either morally or financially. It is possible that after a few years, going to the facelift operation will, like at home in the evening, put on a nutritional mask. Here then think about it. In the meantime, we must try to keep the skin longer young.
I work in three directions:
1. Prevention (hydration, nutrition, massage, etc.).
2. Visual reduction of wrinkles.
3. Use instant masks.
I started to care for my skin early. I like to make different masks, I tried a lot of creams under my eyes. Even now, when I have a small child, I try to find time for this. A couple of times a week – masks. I drive cosmetic oil under my eyes (there are many of them, you need to find the right one for you) and follow a few rules:
– I wash only with cold water (firstly, it is necessary for the skin not to hurry to become wrinkled, secondly – cold water contains less chemistry);
– I try to treat the skin around the eyes carefully (I do not stretch, I do not rub);
– I definitely wash cosmetics at night (iron rule);
– I sleep, lying on my back (during pregnancy I have completely disaccustomed to sleep on my stomach);
It would be nice to add a full-fledged dream to this list, but … I sleep a little and without any regimen …
I have little time, so I do the bare minimum:
1. Putting the cream around the eyes, gently drive it into the skin. The upper eyelid – in the direction of the temple, and the lower – to the nose.
2. Lightly draw a figure eight with my finger several times around both eyes.
3. I press with my middle finger under the eyebrow, as if lifting and sealing it. Moves this way to the temple.
4. With quick easy movements I drum on the skin at the outer edge of the eye with two or three fingers.
Visual wrinkle reduction
1. Foundation should be liquid, light and suitable for age.
2. Be sure to use the powder. There are even special powders under the eyes. They fix the tonalka.
Eye Masks
I make different masks. It depends on my mood and on what components I currently have at home. I liked a few masks: banana, yeast, potato. These 3 masks show their results immediately after application: fine wrinkles are smoothed, puffiness is removed and the skin color pleases.
Chop half a banana into a mush, add sour cream and olive or castor oil to a teaspoon. Apply to both centuries for 20 minutes. All of these ingredients are very good for the skin and individually. For example, I often nourish a person with sour cream (I like that it was quick — picked and spread) or apply plenty of olive oil on skin that was steamed after a shower. Sour cream should be washed off, and the oil – just blot with a napkin, it is, by the way, well absorbed.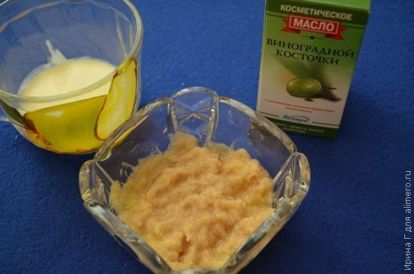 To wipe one small potato on the smallest grater. A little squeeze. Add to it a few drops of grape oil and 2 teaspoons of cream. Apply under the eyes for 10 minutes. At this time put cotton pads, with tea leaves, on the upper eyelids.
Make gruel from yeast and milk. Lubricate the eyelids. Rinse off after 15 minutes. The effect of this mask is very noticeable.
In principle, these compounds can be applied on the entire face, only a yeast mask should not be used if you have unwanted vegetation on your face. It provokes hair growth.
That's how I care for the skin around the eyes.
The skin under the eyes quickly begins to age, but it also responds easily to good care. So at home you can get rid of wrinkles under the eyes. At least for the evening – for sure.
Do you agree with me?