Oh God! Who do I see in the mirror in the morning? Is it really me? Well, it was worth a couple of times not to sleep, and I'm already some kind of resident of Auschwitz – there are such circles under my eyes that they look not just ugly, but really painful.
Do you know such a thing? If not – believe me, you are incredibly lucky 🙂
And the most annoying thing is that even using a special cream for the skin around the eyes is not so easy to get rid of this problem. We have to literally develop a whole range of procedures. But then, as they say, the result is obvious.
So, my proven methods.
Tea Compresses
This is the very first and very simple way – brew strong black or green tea, but not in tea bags, because there is no tea;). The infusion infuses and cools, otherwise we didn't have enough burns to get bruises;)
Then I take 2 cotton discs, wet them in tea leaves, fit more comfortably on the couch, close my eyes, and on top – a compress. The whole procedure takes 15 minutes. As an option, you can brew chamomile tea – the effect will not be worse.
I freeze the remaining green or chamomile tea from the previous procedure, and then wipe my face, including the skin around my eyes, with cubes of such cosmetic ice in the morning and evening. But only in this area you need to wipe very carefully.
Potato masks
Here, of course, you have to tinker a bit, but because beauty requires;)
˃ Boil the potatoes in uniform, wait until it cools, then cut it in half and apply each half to the skin for 20 minutes.
˃ Grate raw potatoes, squeeze the juice, mix with a drop of olive oil or milk and apply this gruel to the area around the eyes.
˃ When you don't really want to mess around, you can cut a circle of raw potatoes and just put 10 minutes on your eyes. You can do the same with fresh cucumber slices – 2 times a day for 10 minutes.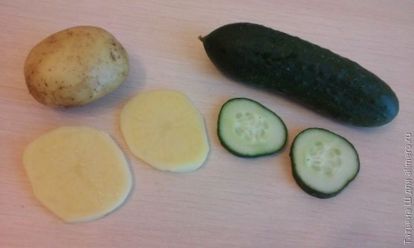 And more important points
In addition to compresses, masks and rubbing with an ice cube, there are tips that help not only to get rid of dark circles under the eyes, but also to restore a healthy complexion and a rested appearance.
1. Get enough sleep. Probably, this is both the simplest and the most complex. I don't know how you girls do, but I don't always succeed, so I have to conjure with masks and compresses later.
2. Washing with cold water.
3. Daily walks in the fresh air.
Do not forget that the skin around the eyes is very delicate, so care for her should also be gentle and careful. And if you have no reason to have bruises under your eyes, which do not pass a long time, this can be a sign of a serious illness, and then you should consult a doctor.
And how do you fight with dark circles around the eyes?