Watching my photos from school years, I notice the unchanging pallor of my own kind, of course, not the same as with a swoon, but my face is still paler than the people around me. You can add blush, pursuing instant results, and you can delve into the causes of this phenomenon.
I do not remember myself walking with my parents at a small age; I only remember how I was already walking with school friends, then my retreat and unwillingness to go out. Parents are not very puzzled by this: Does not want – do not.
I couldn't go to sports clubs, and the music school did little to encourage the blush on the cheeks and the active circulation of the body. Only family skis in winter and the period of family visits to the pool I remember very much with a positively-colored tone of those periods.
Blue blood and moisturizing
At the same time, my skin is thin and almost transparent, so it was not for nothing that I was called the girl of blue blood. Sometimes I was even proud of my snow-white appearance, because there was not only pallor, but also a genetic disposition for such an aristocratic image. And the aquiline nose just added the features and uniqueness of my appearance.
When I fell in love with my features, took pallor, I began to take care of my skin. She needed to be moistened as much as her body in water. And I noticed that the more I drink – the better my skin looks, the healthier it is.
Using moisturizers, I also maintained the water balance of the skin, making the skin look good for a longer time, even when she was clearly tired from the long day.
I knew this scourge early, I just hated them, until I realized that I could keep my aristocratic complexion, preventing the skin from reacting to the sun. So, at the first rays of the sun, I wore sunglasses, and in the spring until autumn I put on anti-tan cream for the face of the Schizeida brand with a factor of 30.
Also for this, I made cucumber masks, after them I clearly saw the effect – the face brightened, but the freckles that appeared appeared pale and not so obvious.
I used to use foundation. And I liked the effect, until one day I stumbled upon one of my photos, where a prettier girl with a doll face looked at me. I liked the girl. But the dissonance about her liveliness I thunder in my head.
Since then, I began to use the foundation only in rare cases, I for naturalness, because it is created by nature.
But here I use blush of a cold pink shade more often, they only emphasize a whiteness of my skin of which I am proud now.
There was a time when I hated myself, my skin and especially freckles so much that I tried to look dark, and therefore resorted to tanning beds and tanning. I liked the effect, but the feeling of dirt and some kind of shackling film never left me. There was a feeling that I was wearing a strange costume.
But I still like myself a chocolate blonde, but I don't want to repeat the sensations of someone else's costume. And in memory of what was with me was very nice to save those pictures.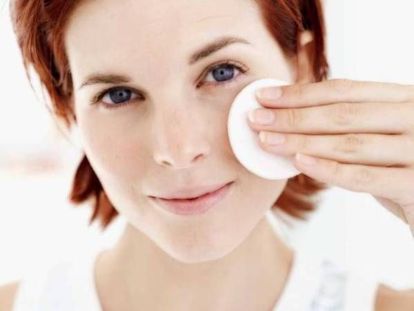 I loved to experiment with my face, as I did with my rest. And the mood is different, sometimes drawing a catwoman on yourself helps in a new place to feel better.
But the main rule that I made for myself is that all life wants to breathe and be free! Because non-alcoholic tonic is an important element in the care of my skin. It does not dry, but moisturizes and cleanses the skin from cosmetics, dust, unkind eyes and unnecessary thoughts. 🙂
It is also important to remember that everything that helps to drive blood in the body faster, helps to improve the complexion, it is worth remembering yourself after jogging in the fresh air, or after walking in the cold. So sometimes, before an important meeting, I take a bag of frozen berries from the freezer and cool the skin of my face for 5 minutes.
Nutrition also plays an important role in the general condition of the body, as well as the appearance of the skin. So lean on carrots, fruits, vegetables. Be careful with sausages, canned goods, sausages and fast food.
And yet, for a woman over 30, it is important for the external attractiveness and healthy appearance to sleep as much as is required by her individual biorhythms. That's probably all.