I am a young mother, therefore, the problem of bruises under the eyes is now very important for me. It is not surprising, constant lack of sleep, especially now, when my daughter got teeth, fatigue, overwork, frequent waking up at night, all this is reflected on my face.
For me, the main cause of bruising under the eyes is my regimen. Or rather, I would say his absence. And since I don't have the opportunity to change it now, and even a year is unlikely to be possible, I use some secrets to give my face a fresh and rested appearance. I'm a girl, I have a lot of secrets!
Massage

Yes, you heard right, in the area around the eyes, you can also do a massage. After washing, in the morning and in the evening, I put a special moisturizer on the area around the eyes, and I do it with special movements. I use my fingertips to make tapping, light movements, from the temples to the bridge of the nose. It takes quite a bit of time, just a couple of minutes, but the skin immediately looks much fresher.
Compresses

The easiest compress and known to me since childhood – tea. I just wet cotton pads in a strong tea brew and put them on my eyes for about 15 minutes. The effect is guaranteed! The skin becomes dramatically fresher, and the swelling disappears. Also, I often drink a decoction of chamomile and never throw out the bags after brewing. I attach them to the eyes.
Masks

Masks are best made from fresh vegetables. I personally love especially when they are cold. I think no one knows this simplest and most effective mask – a mask of fresh cucumber. I either just cut it in a bowl, or rub it on a grater. So the cucumber is just in contact with the eyes is better) I put the resulting gruel over my eyes and hold it for 20 minutes.
If suddenly I need to immediately remove the bruises, and the cucumbers are all gone to the salad, then the usual fresh potatoes save me. I also need to rub it on a fine grater and apply to the area around my eyes for about 20 minutes too. I wash off such masks, usually by brewing green or black tea.
Ice cubes

Perfectly helps rubbing the area around the eyes with ice cubes. I make them from decoction of chamomile, green tea, black tea. Just pour the infusion into the ice molds in the fridge, and in the morning, after washing, I wipe the hated bags. And it helps, verified!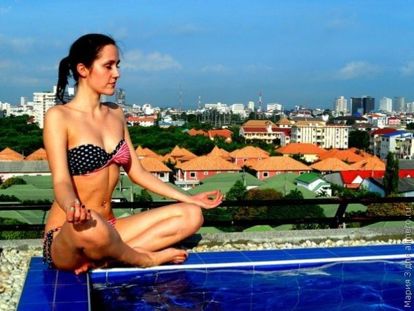 I hope that the methods listed by me will help you to always look beautiful and rested!
And how do you get rid of bags under your eyes? Let's choose the best way!