The skin around the eyes is the most sensitive and delicate skin on the entire face. That is why this skin requires special care with the use of special components. After all, inadequate care can manifest itself in various negative forms, such as dryness, or, even worse, the appearance of wrinkles and even stretch marks.
In this article we will examine the basic principles of care and try to give all the necessary advice to ensure that the skin around the eyes always looks amazing.
On dry skin, wrinkles appear faster and will be noticeable immediately. To moisturize the skin around the eyes, you must use tools, which are based on water. These are usually gels that are quickly absorbed, and you can immediately do makeup.
One thing to be understood is that the skin around the eyes needs delicate care products, because it is the thinnest, but such products are usually quite expensive, since they contain various fatty acids.
Of course, besides moisturizing, the skin around the eyes also needs nourishment. Here come to the aid of funds, which include oils (shea, macadamia), lithitin, biostimulants. Such creams have a lifting effect. If you need anti-aging cream, then the composition must necessarily include collagen.
Apply the cream with light patting movements from the temples to the inner corner of the eye, so the blood flow and lymph flow will improve, and, in addition, it will help to remove or avoid bruises and swelling.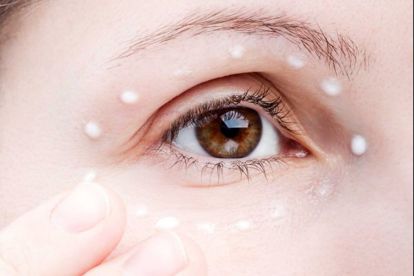 3. Makeup removal
At bedtime, make-up must be removed by special means, such as mycelial water or special milk. This way of removing makeup is suitable if the cosmetics on the face is not so much or it is not resistant.
If the makeup is made using, for example, eyeliner or waterproof mascara, then you can not do more with the means. Such agents, as a rule, have two phases: a makeup remover and an oil. So you can remove lasting makeup without drying out the skin around the eyes.
4. Cream with vitamin C
This cream will help get rid of dark circles under the eyes, as it has a beneficial effect on the vessels, strengthening their walls.
The main thing in care is the understanding that a woman can be beautiful at any age. The appearance of such unpleasant things, like the first wrinkles of the eyes, can be easily avoided or postponed using such simple tips.