Summer is coming very soon and I'm already looking forward to the hot days when you can bask on the beach, wear light dresses and enjoy bright colors in which everything will be buried.
I really love this time, but in conditions of hot sun and dry air, I often have problems with my lips. Their delicate skin begins to dry, and a hard crust forms around it, which is not particularly visible on the eye, but is clearly felt when the lips touch each other.
Therefore, I thought for myself a number of measures that I apply as soon as it gets hot outside.
Steaming skin before treatments

The first step in the care of my lips, I do steam compresses. They enhance the effect of all other actions, preparing the skin for peeling and nutrition.
To do this, clean a small terry towel soaked with hot water and applied to the lips. I clean as soon as it cools, and then proceed to peeling.
Available lip scrub

The simplest, but no less effective than its more complex counterparts, is the sugar scrub. I do it in the conditions of summer heat in order to get rid of dead skin on and around the lips in a matter of minutes.
The recipe is very simple. I drop a few drops of vegetable oil into a small amount of granulated sugar. For these purposes, I use castor or coconut, but any will do.
Then with light, soft circular motions I apply the mixture with my fingers on the lips and the skin around them. The process takes about 20 seconds. Next, wash off with running water.
In conclusion, I put cosmetic vaseline on my skin to avoid irritation, as well as nourish delicate skin.
The procedure makes the lips unusually soft and smooth. After such a massage, they even become a little plumper and brighter due to a rush of blood.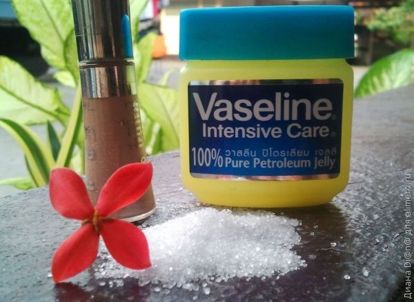 Protection of the skin of the lips from the sun

All the above procedures help me to get rid of the effects of sunlight on the lips. And in order to prevent skin drying, in the summer I always use cosmetics with a UV filter. These are either special protective pencils or decorative cosmetics intended for the summer period.
I do this because I remember that if now I can easily return my lips to softness, then in a few years it will become much more difficult to do if letting the skin periodically lose moisture.
It is necessary to restore damaged skin, of course, but it is much more important not to bring it to an exhausted state.
For comparison, I always imagine wood that periodically gets wet and dries out, and as a result deep cracks form on it, which cannot be removed with any moisture.
The same happens with the skin, if not to care for her in a timely manner. Only on it deep wrinkles appear.
How do you cope with dry lips on summer days?