In continuation of my favorite topic about nails, I decided to write what helps me to accelerate their growth.

Rules are commandments

To accelerate the growth of nails, of course, you first have to eliminate the causes of their fragility.
1. Trying to eat right, eat cottage cheese, cheese and other foods that contain calcium, I take an extra vitamin complex.
2. I drink marigolds in one direction only.
3. I do not press on the cuticle when processing nails.
4. Under the lacquer, instead of a base, apply a means for strengthening and growing nails, such as Smart Enamel.
5. Regularly remove nail polish and give nails breathe. At this time I use all sorts of popular methods that accelerate the growth of nails.
6. I do homework only in household gloves.
The easiest ways to accelerate the growth of nails

One of the easiest ways to strengthen your nails is to smear them with iodine daily. It absorbs quickly, and the excess quickly evaporates from the surface.
The following procedure, which does not require special preparations, is to rub the nail plate and cuticle with olive oil. It nourishes the first and softens the second.
It is easy to apply and simple salt, added to the usual cream. I rub the composition in the nail plate, and remove the remnants with a cotton pad.
Nail baths

I regularly do baths for nails. Approximately twice a week. I change their composition. The first time I use herbs, brew or boil, as when gargling. This is a magical daisy, fragrant lime, tart Hypericum. Those herbs that are always at home.
Perfectly helps and salt bath. I usually cook it from simple salt, warm water. Here I also add alternately a drop of iodine or lemon juice, if any.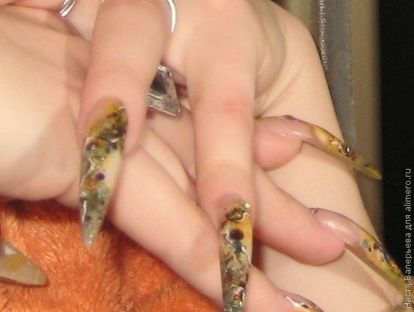 Paraffin therapy

To complex procedures for nail care, I refer paraffin therapy. Paraffin has emollient properties, and applying a nourishing cream or oil after the procedure perfectly affects the nail plate. It absorbs more nutrients and becomes stronger.
Other means affecting the growth of nails

Do not forget such a natural and necessary procedure for the body, like a bath. It sounds weird, but nails, like skin, need good steam. When I go to the bathhouse or cedar barrel, I always take off the varnish so that the nails can breathe.
I do not shy away from various means for strengthening and growing nails, which are sold in stores. But the term of their impact leaves much to be desired. Therefore, I try not to rely only on them.
But, as always in the care of themselves, helps only a complex effect. When I work on the plate in only one way, even if I do the procedure regularly, the result is insignificant.
And what procedures affecting the growth of nails, you do?