I really love cinnamon. I often use it in cooking, adding to baking or desserts. In addition, I use cinnamon powder in my hair, face and body treatments. My favorite recipes of beauty with the addition of this fragrant spice I want to share with you, dear readers of my topic!
By nature I have blond hair. For many years I conducted experiments on them, regularly lightening them with chemical means. As you understand, in addition to the desired color, such funds do not bring any benefit. Therefore, the condition of my hair left much to be desired. They were dry and brittle.
At some point, I realized that it was time to stop the experiments. The decision to grow hair of natural color was not easy for me. A few years passed and I became the owner of a natural brown color car. But in my heart I remained blonde. I really wanted to have hair at least a couple of shades lighter, without resorting to harmful means.
I began to look for ways to lighten hair at home. Several recipes found on the Internet have had many positive reviews. Especially girls praised the clarification of cinnamon and honey.
The recipe for the mask was simple: mix 4 tbsp. cinnamon powder, 4 tbsp. honey, 2 tbsp. olive oil, juice of half a lemon and about 50 g of hair conditioner. The resulting mixture should be applied to washed wet hair, wrap the head with cling film, heated with a hairdryer and wrapped with a warm towel. Keep the mask on the hair must be at least 2 hours. The longer you hold, the more noticeable the result.
I kept the mask on my hair for 4 hours. Hair has become much lighter. Over time, they did not darken, which was important to me. In addition, the hair has become much healthier. They look thicker and shinier. I do this mask every 2 weeks. During this time, my hair became brighter in tone by 2.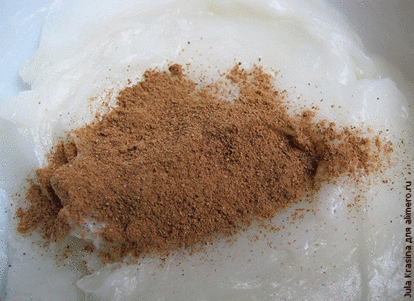 Body Scrub
Ground cinnamon has antioxidant properties, so it is great for skin care. I love making coffee and cinnamon body scrub and I want to share it with a simple recipe with you.
To scrub, you need to mix equal proportions of ground coffee and cinnamon, adding a small amount of olive oil. Stir until smooth. Scrub ready! I do a scrub for several weeks ahead, mixing all the ingredients in a glass jar. Keep the scrub must be closed.
The skin after applying the coffee-cinnamon scrub is gentle and smooth, like that of a baby!
Do you use cinnamon for personal care? Share your favorite recipes!