My nails have always been my headache. Break, exfoliate. Because of this, the lacquer does not hold onto them and a beautiful manicure for me is short-cropped and sawed-off nails, you can not even dream of anything more. Therefore, I am in search of means to strengthen them. I have been looking at the yeast for nails and hair for a long time, and finally decided to order them from an online pharmacy.
The brewer's yeast that I was delivered turned out to be a biologically active food supplement. Previously, I did not meet with dietary supplements, so I had to look for information on the Internet. It turned out that dietary supplements are biologically active substances that must be taken with food. Thanks to these drugs, our diet is enriched, which has a positive effect on the state of the body.
If we talk about these yeasts, they are designed to improve hair, nails and skin. In general, there are various dietary supplements, for example, for getting rid of acne, for the prevention of atherosclerosis, etc.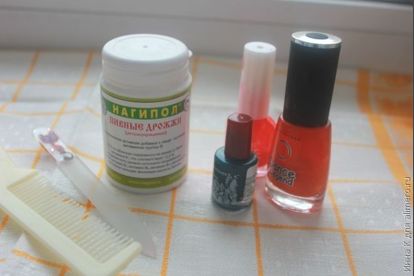 I was brought such a bottle, which cost about 80 rubles, and it contained 100 tablets. The price is small, but if you consider that you need to take 15 (!) Pieces a day, it becomes clear that you need to buy several packages for the course (2 months). The pills themselves are neutral in taste, but it's problematic to stuff 5 pieces at a time with food.
As I understand it, a biologically active supplement for improving hair and nails should contain B vitamins and calcium. I turned the bottle for a long time to find out how much and what substances are contained in the yeast. But the exact data is not found! The fact is that I am simultaneously drinking another drug and Revit, and I would not like to have an overdose on the basis of simultaneous use.
The only mention I found on the label. It lists the vitamins contained in yeast: B2, B5, B1, E, selenium, calcium, zinc and iron. In general, the composition is quite adequate. That's just need to eat as many as 15 tablets to get 12.5% ​​of the daily requirement of these vitamins. It seems to me that this is too small to have any tangible effect.
Result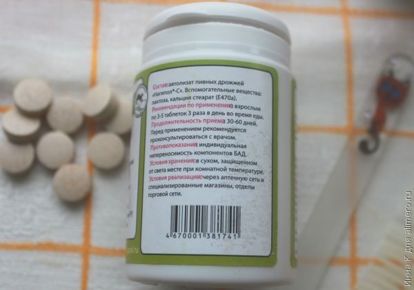 I have been drinking yeast for 2 weeks already and have not noticed any changes. I take care of my hair intensively – I put on masks, wet my tips with almond or olive oil before washing my hair. Fingernails are exfoliated on both index fingers and exfoliated. Although additionally, I also take care of them.
Judging by the numerous reviews on the Internet, thanks to the reception of yeast, many began to grow hair faster. It is still difficult for me to judge this, but if you look at the regrown roots after the last dyeing, the hair grows at a normal rate. The same can be said about the nails.
Maybe I do not know yet, but the process of improving the quality of nails, hair and skin is in full swing in my body. Until I saw it. I think that after drinking a course of yeast, I'm unlikely to repeat it, because the same are the complexes with calcium and vitamins, which I trust more.