I learned about cellulite early, while still a schoolgirl. At 15 years old, I dramatically gained weight, acne and the first manifestations of cellulite appeared. Most likely, the reason for such changes were hormones that my body produced during puberty.
After a while, my weight stabilized, the skin cleared, but cellulite remained in place. After pregnancy, the picture became even sadder. The skin resembled an orange peel, which spread from the buttocks and the outer surface of the thighs to their inner surface as well as to the stomach.
Only when the situation became deplorable did I decide to take care of myself. I always scold myself for remembering only in neglected cases. After all, getting rid of unwanted orange peel at its very first manifestations would be much easier.
Since I could not count on the salon procedures, it was decided to act using folk methods.
First of all, I restricted the use of products such as
– sweets
– animal fats
– smoked meat
– sausages
– pickled and spicy foods
– fast food
– butter baking
Of course, harmful products still sometimes slipped through my menu, but much less often than before. The hardest thing was to refuse sweets, which I used to eat in unlimited quantities. It was especially hard at work, where the team insistently offered to eat candy, or even more than one, for tea.
It is known that the essential oils of orange, lemon, grapefruit or bergamot have anti-cellulite effect. With their use you can massage problem areas of the body, and you can take special baths. I chose the second option, for which I used the essential oil of orange.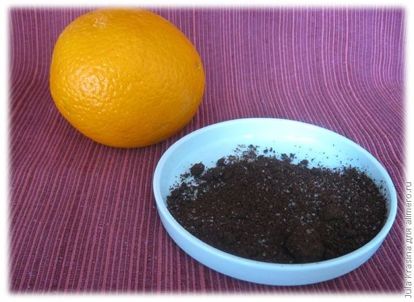 In a tablespoon of olive oil, I add about five drops of aromatic oil and pour the mixture into warm water. The duration of the bath should be at least ten minutes. The longer, the better the result. I take this bath every three days.
While taking a bath, I massage problem areas with my favorite coffee scrub, the recipe of which is familiar to many. It has only three components: ground coffee, sea salt and blue clay.
They recommend using sleeping coffee, but since I don't drink coffee in my family, I take plain dry. In addition, I immediately prepare a large portion of scrub, which I store on a shelf in the bathroom along with the rest of the funds in a closed jar. Therefore, dry coffee is considered an ideal option.
My work on my body continues. At the moment, cellulite, though available, but it is noticeable much less than a couple of months ago. And what recipes for cellulite do you use?