Cosmetics Nivey I remember from childhood. Mom always bought their cream in a round blue jar. I liked everything: the jar itself, the cream, its smell, that my mother loved)))
In adolescence, I tried a lot of this brand. Now I don't remember everything. Deodorants, hygienic lipstick, tonics. It seems like everything liked.
Then something less often came to their eyes. It so happened that for a long time did not buy anything. And recently attracted the attention of cream-shower gel Nivea Milk and apricot.
The bottle of this gel is the most common. The lid is standard, it opens normally. To be honest, one hand is too tight for me. Therefore, after each bathing, I wash the tube of foam and drips separately.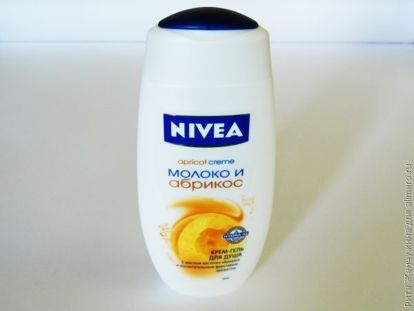 Squeezes out the gel well, easy pressing. The volume is average, 250 ml. I liked the design too. Bubble white as milk))) It is painted juicy apricot. Blue emblem, as expected.
When I bought it, it cost 90 rubles. It seems to me, the normal price for a shower gel. Only a week later I saw him in the same store for a promotion. He stood rewound with Scotch tape with Nivea's antiperspirant. All this pleasure cost 99 rubles. To be honest, it was a little disappointing that I bought it earlier, for almost the same amount, but without a deodorant, which in the summer will definitely not be superfluous (((
Its texture is pleasant, not liquid and not thick. It is applied on the body well, it is washed too. His color is milky, opaque.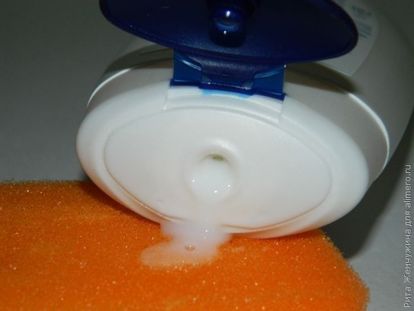 Smell


Here, girls, a real ambush. I must say that I usually sniff in the store all the means before you buy. This applies to gels, shampoos, in short, everything that you can open and smell.
This time I was in a hurry and literally bought it on the run, just by chance remembering that the previous gel was running out. At home, too, was unaware to smell.
Began to wash, I was taken by surprise unpleasant surprise. Instead of the expected delicate smell, if not apricot, then at least remotely resembling milk, I got something terribly chemical.
As for me, it was clearly overdone with perfume. But her husband liked the smell. I even thought that I would wash them for his sake. After the second wash was still attached, after the third decided that was enough. Do not want and that's it.
The composition is not very good, like many gels. Water, sulfates, pegs. Of course, after such a vigorous smell, I was attracted to the fact that perfume is among the first components, whereas with many products at the very end.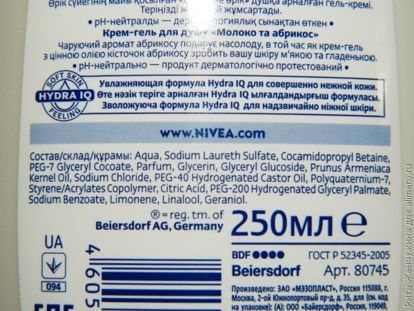 I really liked the gel for its detergent properties. The skin was well moisturized, did not tighten, did not cause irritation. It was a shame that I did not like the smell so much. Now I am looking for a girlfriend who would have liked such a perfume to give in use. I want to believe that not all Nivea products now have a lot of perfume composition and such a chemical one there.