One time I had a skin problem. I regularly visited a beautician, followed his recommendations, made masks, underwent procedures, but there was no result. As it turned out. My problem lay within, and was related to hormones. So I first came to the endocrinologist.
The doctor explained to me how important the role of hormones is in vital activity, the normal regulation of all metabolic processes depends on them, they affect the reproductive function, and all organs in the human body depend to varying degrees on hormones.
The hormonal system can be compared to a conductor managing an orchestra. From his successful management depends on health, it affects the appearance. The endocrinologist collected anamnesis, that is, he found out when I had my first lesions, how often they intensified, examined all the external manifestations and collected data on anthropometry. Then I passed the necessary tests, I was thoroughly examined, and after that I was prescribed treatment.
As the endocrinologist explained to me, in the female body there are not only female, but also male sex hormones. They are especially influenced by the condition of the skin and appearance. Their production occurs in the ovaries, and pituitary gland hormones, the so-called small gland, which is located in the brain, affect their work.
Sex hormone imbalance
The doctor explained to me that in my body, male hormones are somewhat more than necessary. This imbalance influenced the stimulation of growth of hair follicles, and the sweat glands became more active, and the process of sebaceous excretion was disturbed. This disease is called relative hyperandrogenism, which manifested in the form of rashes, greasiness of the skin, moderate hair loss. And with the development of the disease in general could reach serious violations in the body, and even infertility and the formation of tumors.
Diagnosis and treatment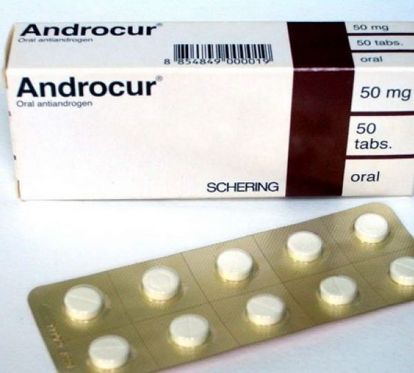 It turned out that I suffer from congenital dysfunction of the adrenal cortex, in which an excess amount of male sex hormones is produced. I was prescribed a lifelong therapy with the anti-androgenic drug Androkur (at least a very long 9 months minimum).
Hormone therapy was prescribed to me in order to achieve a cosmetic effect. It's good that I already have two children, and I don't plan to give birth anymore, because pregnancy is contraindicated when taking such drugs.
The effect appeared after 3-4 months, the skin began to look much better. I think for now to continue taking the drug on prescription.