Girls, let's arrange a day of honey pampering. You are not allergic to this amazing product? Anyone who has been reading my topics for a long time probably have already noticed how much I love honey. I have already shared my recipes for hair and face masks with you. But today I want to talk about honey massage for the whole body.
It is best to do it in a bath or sauna, because the body must first thoroughly steam. If there is no such possibility, then take a warm shower or bath before the procedure. Do you know who can help make it? Well, of course, beloved man! True, the procedure itself is a bit unpleasant, but the result! It's worth it! So, let's start …
First of all, prepare everything you need:
– fresh natural honey
– essential oil (to your taste)
– a large towel or sheet (so that was where to go)
Mix honey and essential oil (usually 5 drops of oil are enough for a teaspoon), rub until the mass turns white. Yes, I completely forgot. You can not decide which oil to prefer? I used these:
– grapefruit (cellulite)
– pine or fir (from irritation and pimples)
– lavender (from insomnia and overwork)
You can mix two different oils. Calculate the amount of honey as follows – 2 teaspoons are enough for the buttocks and hips.
What next? The skin has evaporated, the pores have opened, you can lubricate the whole body with honey or only certain areas. And now you need a little patience, it will be unpleasant. Smeared with honey, press skin firmly with palms and tear off sharply. A little used to? You can add effort, honey as if driven into the skin.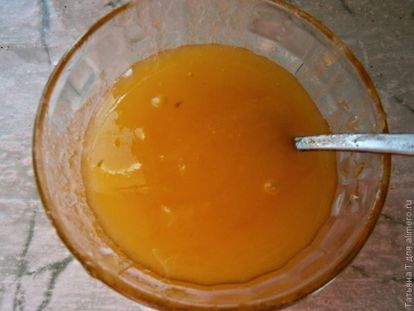 That is why I suggest you ask your loved one for help. He has no manicure, and more power. And you yourself are unlikely to be able to massage your shoulders or lower back well. As an option – you can go to the sauna with a girlfriend.
When the body will only have a thin layer of the mask, and it will get a grayish tint, you can wash it off. Vodichka should be comfortable warm, and washcloth medium hardness. During this massage, a kind of exchange occurs – the skin absorbs all the benefits of honey, and gets rid of all the bad things.
So, thanks to a simple procedure lasting up to 20 minutes, you will become the owner of a beautiful, radiant, healthy skin.
Have you tried a massage with honey? As a result?