As you know, hands always betray the age of a woman. Beauticians say that it is much easier to care for the skin of your face than with your hands. After all, our hands are constantly under the influence of unfavorable factors: weather conditions, household chemicals and the lack of proper care spoil the skin, making it dry and weathered, and our nails are layered and uneven.
Several years ago, I noticed that after washing the stove, bath and sink with the help of various advertised means, my hands become too dry, sometimes even cracks appear on the skin. The first reaction to this is to smear your hands with a fat cream.
But, unfortunately, some hand creams did not give any effect at all, and some softened the skin, but only for a short time. Of course, you can not allow contact with skin chemistry. For example, it is worth working only with gloves, but this option is not for me. I am very uncomfortable in gloves, so I take them off without finishing work.
A cosmetologist friend about whom I wrote in the last topic advised me to make masks for hands. With their help, the hands could remain soft. I have always been fond of folk recipes for skin care of the face and body, so I enjoyed the advice of a friend. Some of the recipes that I tried on myself, I want to share with readers.
Moisturizing egg mask for hands
This mask is one of the easiest to prepare, and the effect of its use is simply amazing. For its preparation, you must beat the egg yolk and add 1.5 tablespoons to it. olive oil. Apply the resulting mass on the skin of the hands, cleaned previously, and leave for at least 20 minutes. If the skin of the hands is very dry, it is recommended to apply the mask for the night, wearing special cosmetic gloves on your hands.
I used this mask more than once. I liked it, first of all, by its simplicity in making and the available ingredients that can always be found in the house.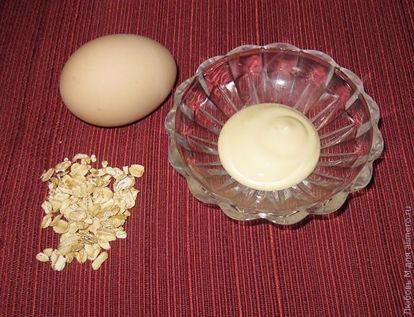 Nutritious carrot mask for hands
When I prepare food and rub carrots on a fine grater, I always leave a small amount of it for cooking my favorite mask.
Carrots, we need a small amount, about half to two tablespoons. It is necessary to mix it with 1 tbsp. sour cream (the fatter – the better) and 1 tbsp. olive oil.
Apply the obtained gruel on the skin of the hands for about 40-50 minutes, wear gloves and then wash off with warm water and soap. Thanks to butter and sour cream, the hands become soft and tender, like in a baby. Carrots give their skin vitamins.
Try to prepare such a mask, and you will notice an amazing result. By the way, instead of carrots, I sometimes use milled oatmeal – the effect is not worse.
As you can see, it's not difficult to care for your hands. The main thing is to do it regularly and with love.
How do you care for your hands?