In one of my past topics, I talked about the problem of dry hands, which has accompanied me for many winters in a row. Bleeding cracks, not having time to heal, appear again and again. Unfortunately, the majority of cosmetic and even medical devices cannot solve or at least alleviate this problem.
In this regard, hand care products are indispensable for me. On the shelf with my makeup there are always some fatty, nourishing creams. Being aware of such a need for their application, relatives and friends often present me tubes, in the hope that the skin of my hands will finally get a well-groomed look.
Cream Cristmas Wish known to all the company Oriflame my mother gave me recently. Surprisingly, but before that I did not have to use the cosmetics of this company, so this cream has become a novelty for me.
Packing and composition
First of all, I drew attention to the bright packaging of the cream, reminiscent of the last New Year holidays. The cream is packaged in a standard tube of saturated red color with a green lid and a volume of 75 ml.
The packaging looks very stylish due to the beautiful image of the New Year tree with a star and golden inscriptions.
In addition to the composition of the product and the method of application of the cream, there is no information on the package, no promises from the manufacturer. I was so used to reading the laudatory odes on the packaging of a product that this fact seemed rather unusual to me.
It is impossible to call this cream completely natural, as there are enough harmful artificial components there. Pleases only the presence of glycerin on the second place after the water in the list. In our time, chemical components, unfortunately, will not surprise anyone. In cosmetic products for another purpose, I am picky, which I cannot say about hand creams. Therefore, the presence of such components did not make me refuse to use this tool.
Advantages and disadvantages
Unscrewing the lid, I instantly felt the sharp spicy-cinnamon flavor of the cream. With all my love for the smell of cinnamon, I did not like this aroma because of its sharpness and saturation. For some reason, he reminded me of incense.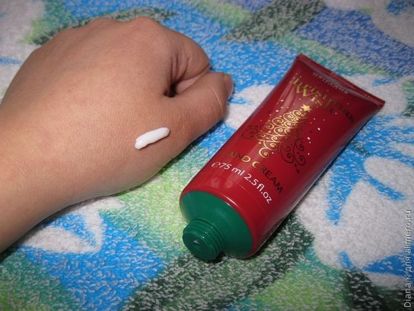 The cream has a white opaque color and a very thick texture, so that when applied to the skin, it retains its shape without spreading.
It is absorbed quite quickly, but, in my opinion, has a significant drawback – it leaves a slippery glycerin film on the skin, which disappears only after washing hands. I didn't notice the nourishment or hydration of the skin, so I don't recommend to the readers of Alimero the Christmas Wish hand cream from Oriflame.
What hand cream is right for you?