I use hand cream often. Perhaps because I constantly tidy something at home. I didn't find a common language with gloves. It turns out that water and cleaning products are constantly in contact with my hands.
Creams Velvet handles in peach-colored tubes I have been taking for a long time. It seems to me that I tried all their varieties. There is a nourishing, softening, moisturizing, some more, I really do not remember now.
This cream is also from Velvet hands, but there are differences:
– design (gray-white tube and cardboard packaging)
– a series (this innovative, is called Beautology)
– price (those creams for 30 rubles, this 90 rubles.)
Packaging and Purpose
There is a lot of information on the tube itself. And on the cardboard box even more! Here already pulls on instructions from any technology)))
The tube is the most common, with a screw cap, a volume of 75 ml. Use within six months after opening.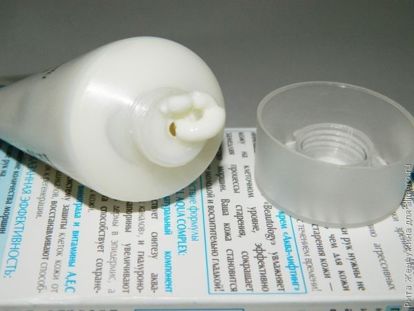 If you notice, anti-aging cream. The packaging says that it should be used from the age of 25. Because at this time the process of aging begins. And in 35, cell activity is already greatly reduced. Since I am 31, it must be assumed that my hands and skin have already begun to age on them)))
The name Aqua-lifting itself suggests thoughts of hydration. And there is. This is one of its main tasks. He also has to reduce wrinkles, slow down aging, restore and protect the skin.
Smell and consistency
Its consistency is rather thick (many creams are thinner). He likes the smell very much. He is purely cosmetic. There are no flavors of the fields, cucumbers and other things))) that manufacturers love so much, who trumpet about naturalness.
It is easier to photograph than to rewrite (it is in English).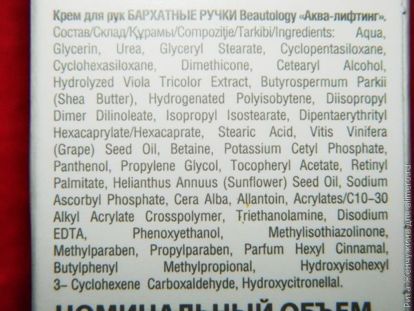 When the package describes the advantages of the cream, mention of vitamins A, C, E, grape seed oil. Another aquafilin. This component, as indicated, improves the synthesis of aquaporins and hyaluronic acid.
To be honest, hyaluronic acid has put me on the alert. I am against her and Botox. Therefore, I don't want to use products that contain them. After reviewing the composition again, I did not find this acid there. This calmed down.
And in general. It seems to me that it costs very different money. So she could hardly be here.
In applying the cream is super pleasant. It is distributed evenly, absorbed well. Of course, it should be applied to clean and dry skin. Recommended twice: in the morning and in the evening. And every day.
I started buying this cream in the winter. In the cold season, my hands dry significantly more than in the warm. Then enjoyed every day, only at night. In the spring, she began to smear her hands every other day. And now generally twice a week. This is enough for me with this cream.
It really moisturizes the skin and makes it softer. It is difficult to say whether he is young. While I did not complain about the wrinkles and old age of the skin.
I really liked this cream. From the inscriptions on the package I learned that he is not alone in this series. There are luxurious skin and formula of tenderness. I will try to find and buy them too!