I have had the problem of removing unwanted body hair for many years. They are naturally darker in me than in many other women, and therefore more visible.
This problem is particularly relevant in the summer. If in winter you can hide separate hairy areas under clothes, then in summer everything is visible. Especially since I love the maxi skirts that are not fashionable now, but knee-length or even shorter.
Currently, for different parts of the body, I use different methods of depilation. I want to consider them in detail.
Shaving
This method was my very first method of hair removal and I applied it to the armpits. This happened when I was still in school. I remember that my mother strictly forbade me to shave my legs: Hair will become hard, like in men, and will grow.
However, my classmates legs shaved, and their hair did not become curly hair. And I went unpicked until I discovered a depilatory cream. Only it was already in the first year of the institute.
More precisely, I tried several creams to remove hair on my legs. I don't remember all the brands, but more often I used the Polish cream Eveline. In the end, I opted for the product of this company with the tempting name 9 in 1.
The manufacturer claimed that this cream has 9 advantages at once: quick hair removal, smooth skin, moisturizing, smoothing, hypoallergenicity and some more useful parameters. He also has a pleasant, in my opinion, smell.
The main advantage of this method was painlessness. But at the same time, the first growing hairs appeared already after 5 days. Therefore, I thought about using an epilator.
Epilator or beauty requires sacrifice
This phrase fully describes the following method I used – the use of an electric epilator. I didn't immediately decide to buy it, but my young man was seduced by the words: Hair will not be for a month – checked by my sister.
We bought this device together and chose a Philips epilator. It was worth more than its competitors, but it contained a special anesthetic nozzle.
Tips for using the epilator
What can I say? After the first pulled out tufts of hair on my legs, I probably left a month. But then again decided on the execution. And the second time it was no longer so painful, and the third time it was not enough pleasant, but it was still tolerable.
I always spend the procedure after a shower: the skin is steamed out, the pores are enlarged – and the hairs are pulled out more easily. It is better to remove hair at night, as there are red dots on the legs. Redness passes in a few hours.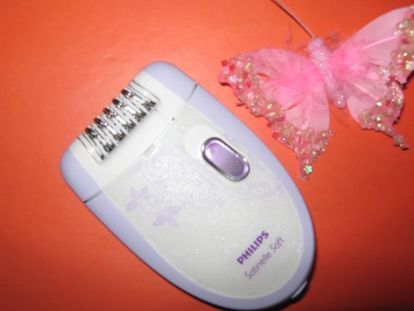 Laser hair removal

I wrote a topic about this method. Unfortunately, I did not manage to remove the hairs above the upper lip forever, as the advertisement promised. Maybe I gave up early.
Although I'm not sure that even after 15 procedures, I would finally get rid of small antennae. I heard that it is necessary to come every year for 1-2 correction procedures.
This is not the first time I've heard from men: I don't want to shave in the morning. I understand them perfectly and I dream of a magical tool that will get rid of hair once and for all, while painlessly.