I get rid of hair on my legs with an epilator. I got used to it for a long time – about half a year. And I have been using it in general for 10 years already (this is the second device). And it still hurts!
I steam the skin in the shower, scrub, wipe dry and let cool. The procedure takes about 10 minutes. After it, the skin in the red spots, burns and itches, so it is better to do epilation at night.
Be sure to soothe the legs with lotion or cooling cream – so the redness drops faster. I clean the epilator with a brush and rinse its head with water. At least once a week I use a scrub to prevent hairs from growing into the skin.
pros
– 2 weeks, the legs are smooth (although here someone is as lucky: one procedure is enough for a month, and others need to be epilate once a week),
– hair brightens and thin.
Minuses
– irritation and redness of the skin,
– growing hairs,
– painfully!
– the hairs must be grown so that the epilator tweezers can grab them.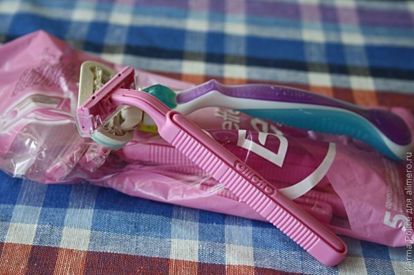 Razor
The idea to use the epilator in the armpits and in the bikini area terrifies me. I'd rather look like a snowman female, but I will not tolerate this hell with pulling hairs.
My skin is very sensitive there, and, I'm afraid, the epilator will rip it off along with the hair. And also irritation and ingrowth of hairs … Nooo! Only a razor!
By the way, used a cream for depilation. It slightly slows down the growth of hairs, but the procedure itself is long and tedious, I find it easier and faster to get rid of the hair with a razor-shoulder.
pros
– simply,
– painless
– quickly.
Minuses
– the frequency of the procedure.
This intimate device is not mine, but a husband. It is designed to remove hair in the nose and ears. And although the husband doesn't have any particular bushiness-hairiness in these places, he always tried to remove something from there. Tweezers – pain, scissors – dangerous, we had to fork out for a trimmer.
Priborchik works like hair clippers: two iron plates with teeth move like scissors and cut hair falling between teeth.
With a trimmer, I correct my husband's hair around his neck and barrels. I cut my eyebrow before myself, now I don't. By the way, this trimmer is suitable for intimate haircuts.
Pros:
– convenient and safe
– easy to clean and wash under running water
– don't hurt
– battery operated.
Minuses
– not yet, but in old age these devices pull hairs.
I really want to try home shugaring, looking for recipes.