Girls, I want to share with you the impression. I recently stumbled upon information about a gelatin facial mask. Never heard of such. The article promised some incredible effect from this mask. Of course, I wanted to try.
Why i got interested
1. According to the author of the article, the gelatin-based mask is suitable for everyone, but is especially good for dry skin.
2. It bleaches (and me, with my excessive pigmentation, this is necessary).
3. Reduces fine wrinkles (it is clear that no mask can cope with deep ones).
4. The skin from it becomes more elastic and even the face contour is tightened.
In short, the mask must surpass expensive collagen creams in its action. This is explained by the structure of the molecules, but I will not go into details, especially, who knows, is it true. Well, check.
From several compositions I chose the one from wrinkles.
It took me:
– 1 tsp. gelatin
– 1 tsp. honey
– 4 tsp. water
– 2 tbsp. l glycerol
Cooking and the process itself
I soaked gelatin in water for 10 minutes.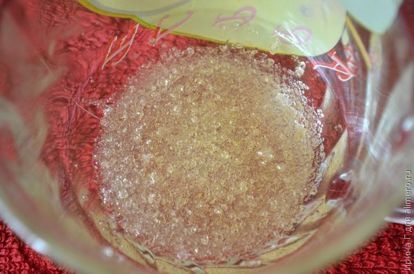 He quickly swelled and absorbed the water. Then she set it on a weak fire and waited for the grains to begin to separate. She immediately added honey, and when both the honey and gelatin completely dispersed, she poured glycerin into the cup. Stir. The mixture was hot, but I did not bring it to a boil.
While my composition was cooling off, I gently cleaned the skin of my face, neck and decollete: I made a soft scrub of hercules and warm water.
The mask of gelatin can not be applied to the area around the eyes.



Therefore, in order not to offend the eyes, before applying the mask, I smeared almond oil around them.
I waited for the mixture to be thicker, and it turned out quite fluid and fluid. The consistency is approximately the same as that of syrup. According to the recipe, it was necessary to add 4 tablespoons of water, but I did not. It would have turned out like water.
After applying, I lay down on the sofa for 20 minutes. On her eyes she put cotton pads soaked in strong brewing of black tea.
This time should be spent with completely relaxed muscles of the face and, naturally, do not talk.


After 20 minutes of being on my face, the mask didn't dry up: I just froze, let's say. I washed off easily, though before going to the shower, I put a wet towel on my face for a moment.
You know, girls, if you do not hope for a miracle, the mask is quite decent. I definitely liked my reflection in the mirror after the mask: the skin became fresher, brightened, and, as it seemed to me, the wrinkles really became less. No irritation (although it happens to me), no foreign smell.
So my feedback is: positive.
I think I will do it again soon. Moreover, it is this composition that can be stored for several days.
Yes, I have it then, all the same, froze and turned into a kind of rubbery mass.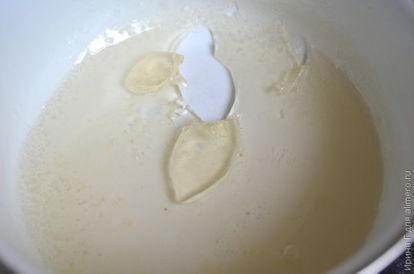 So the next time you use it, you will need to re-dissolve it on the stove. I hope it works out.
Have you tried a gelatin mask?