With the advent of shower gels, I became their ardent fan – no soap gives such a pleasant feeling after taking a shower, like gels.
Therefore, I always use shower gels and try to constantly experiment with different products.
Most recently, I purchased a new shower gel and now I will tell you about it.
Packaging
The bottle of shower gel is white. The label depicts shea and vanilla pod.
The consistency of the cream is quite thick, similar to cream. But this is not surprising, since this is a gel cream!
The gel foams well, the foam is gentle and soft, which is also important. Since gels that foam poorly cause a feeling of irritation. At least I have just such a reaction.
Aroma
When choosing shower gels, I always pay attention to its aroma, because I can not stand the saturated odors. And in this gel the scent is fresh and unobtrusive. It smells like vanilla and almond.
After bathing with its use on the body, the smell does not last long, which is good in principle.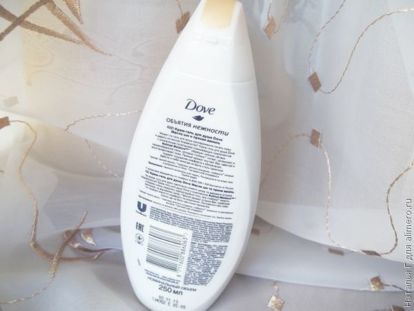 Personal opinion
I am very pleased with the cream gel and in the future, I think, I will use it. Since my skin after taking a shower becomes soft, delicate and moisturized.
The gel is gently applied to the skin and as if enveloping my body. After bathing, the feeling of tightness of the skin is not felt. On the contrary, the skin is moisturized and velvety.
By the way, gel cream is ideal for shaving legs and other body parts. Irritations after shaving does not cause.
It is enough to drop a gel with a spatula washcloth, as it immediately foams well, which speaks of its cost effectiveness.
In general, the gel is just perfect in everything. And if you like the smell of vanilla, almond and shea butter combined, then this gel cream is created just for you.
I will definitely recommend it to my friends and family as one of the best care products for every cell of the body.