My facial wash has long been over, and I still could not buy it. And then our friends went to Thailand and brought me just foam for the face! This is the well-known trademark Garnier. And the product I'm going to write about is pure active fruit energy energizing.
I'll start with a little intro. It turns out that such a tool in our market has not yet been launched. I wanted to see what other girls think of him, but I found reviews only in English. But there was more confidence that I was testing Garnier cosmetics, and not fake. Although, who knows these Thais …
What is intended for
I know a little English, but my friends are probably not very. Well, how can you not notice the inscription on the packaging – acne. No, I am of course very pleased that they gave me something. Here are just acne for the last time at school.
Intended remedy for oily skin prone to acne. I'm really dry, but I still decided to try the foam and make up my opinion about it.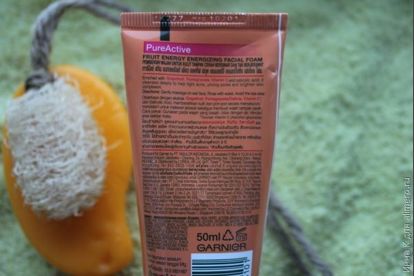 The tube is standard, like other products of this company. 50 ml tube. The lid opens easily, even with wet hands. The series that came to me was fruit energy or fruit energy. Perhaps that is why the packaging is bright, joyful orange. The composition includes grapefruit, pomegranate and vitamin C and fruit, respectively, are depicted on the front side. Nice to see.
The aroma is pleasant, only a grapefruit does not smell here. Fresh, notes of something sweet. I did not find anything citrus, no matter how I sniffed.
Impressions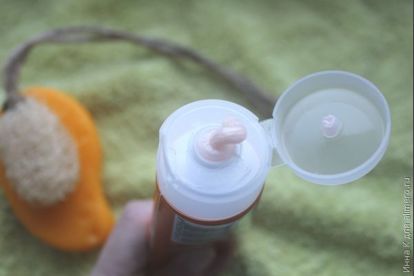 So, in the evening I decided to test my skin and wash off the makeup with it. She washed very well. It was enough just a drop to smear it over the entire face. I immediately noticed that my eyes began to tingle. I did not even think that this tool may not be intended for removing makeup, but only against acne. Feelings are not very pleasant.
Then, when I washed the foam, I had the feeling that my skin was too washed. She almost squeaked on cleanliness. I think that when the skin is greasy, and even with pimples, it is even good. They are dried, there is a pleasant freshness. But I did not like the effect and I ran to smear cream.
If the foam is used by those who have some problems (pimples, acne), then it may help to cope with them. The withering effect was very much felt. I, except for packaging and fragrance, nothing more like it.
Have you seen this Garnier series on sale?